Behind The Air Bag Battle, A War With The Feds
While consumers stew, carmakers and the NHTSA duke it out
Bill Vlasic and Christina Del Valle
In the last couple of years, relations between Detroit and the federal auto safety cop, the National Highway Traffic Safety Administration, have been getting pretty testy. Privately, many Detroit executives contend the agency has intentionally fanned public concerns over such issues as allegedly faulty fuel tanks and tailgate latches to force companies into settlements. Now, with a major decision looming on how to make air bags safer, tempers may be about to really explode.
A recent case involving Chrysler Corp. shows how edgy things are getting. NHTSA sued Chrysler after the company challenged a government test that showed alleged safety defects in the seat belts of 91,000 of the company's Cirrus and Dodge Stratus sedans--the first time the government has ever sued an auto maker to force a recall. Chrysler argued before a federal judge in Washington that the tests--which yank belts in crash-like conditions--were flawed because test equipment was improperly positioned. It also contends that NHTSA overstepped its authority when it used test procedures not spelled out in federal regulations. Ricardo Martinez, NHTSA's chief, says he's "surprised they would rather go to court" than recall the vehicles.
Another big test of wills is developing over new NHTSA air-bag rules, which may be finalized as early as the end of February. The more than 50 air-bag-related deaths of children and small adults since 1991 have led NHTSA to propose that consumers be allowed to have their air bags disconnected by auto dealers and mechanics--something the Big Three adamantly oppose. But with the stories of air-bag injuries still circulating and alarmed consumers clamoring louder for the right to turn their bags off, says auto safety advocate Ralph Hoar, "NHTSA is feeling appropriately besieged." That's why it's pushing for the disconnect rule.
SLIGHT RETREAT. The Big Three retreated from their opposition a bit in early February. They said they are willing to install air-bag cutoff switches--but only in very limited cases, such as in cars used by people with medical problems. The auto makers continue to oppose the idea of making switches available on demand. They argue that the widespread turning off of bags would lead to many more fatalities. And they fear that they would be the target of lawsuits by the victims if they're right.
So, expect the volume of the rhetoric to keep rising. In its formal comments on the air-bag proposal, Chrysler chided NHTSA for "an abdication of responsibility" by letting vehicle owners choose to disconnect air bags. Martinez, for his part, says NHTSA "wants to make relief available" for consumers worried about the dangers of inflating air bags to smaller adults, children, and infants.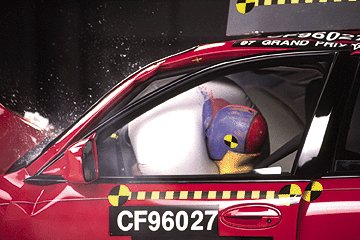 BAD BLOOD. How did the level of tension between the Big Three and NHTSA escalate so high? Things began to heat up with NHTSA's probe of fire danger in General Motors Corp. pickup trucks in 1994 and got worse with the agency's investigation of rear-gate latches on Chrysler Corp. minivans in 1995. (The latches allegedly failed in crashes, allowing tailgates to pop open and passengers to be ejected.) Both inquiries were resolved by settlements: GM contributed $51 million to safety research programs to resolve the fuel-tank case, and Chrysler agreed to replace the latches on 4.5 million minivans. But both auto makers still vehemently defend their original designs as sound.
Safety advocates and families of air- bag casualties worry that tempers are flaring too much. "I blame the auto makers for the problems of air bags, but I can't believe how NHTSA and the industry seem to be opponents on all this," says Robert Sanders, a Baltimore attorney whose 7-year-old daughter, Alison, was killed by an air bag in 1995. Indeed, given what's at stake, it may be time for both sides to lay down their cudgels and focus on common concerns.
Before it's here, it's on the Bloomberg Terminal.
LEARN MORE