At Aol, More Holes By The Minute
The giant is scrambling to steady its balance sheet and its stock
Amy Barrett
Is America Online out of the cyber woods? Not by a long shot. Rushing to put its busy-signal customer-service debacle behind it, the online giant is adding an average of 1,000 modems a day to reconnect angry subscribers. But its financial problems won't be as easy to fix.
After taking a massive $385 million hit in the September quarter, America Online Inc. had been telling analysts to expect breakeven results this quarter. Instead, AOL says the cost of upgrading its network will post-
pone profitability until the June quarter--and that's only if more revenue rolls in from new sources, such as advertising and online transactions.
If AOL can't keep to its new timetable, its once high-flying stock could plunge anew. AOL shares have bounced back to around 34, from 22 3/4 last October, when the accounting change, which related to how the service accounted for marketing costs. That essentially wiped out all the company's previous earnings. Today's price is based on analyst estimates that the company could earn $60 million or more for the fiscal year ending in June, 1998--a forecast some analysts now feel is shaky. "This is a business that is going to be enormously difficult on an operating basis," says Jonathan H. Cohen of Smith, Barney & Co.
THIRSTY. AOL's difficulties have already taken a toll on its balance sheet. In the December quarter, for which AOL reported a $155 million loss, cash on hand actually grew to $130 million, thanks to the many customers who had prepaid for one- or two-year memberships. Yet AOL had negative working capital of $193 million. In plain terms, that means the $1.7 billion company has more bills coming due than cash and liquid assets on hand. If AOL's operations don't turn the corner as promised, says Abe Mastbaum of money manager American Securities, it could be forced to raise cash through new bank loans or possibly a stock offering--which would be the company's fourth. "The worst time to go to the market is when you need to," Mastbaum notes.
In the meantime, analysts say, AOL is considering adding to its coffers through spin-offs. One candidate: Digital City, an online city-guide service Merrill Lynch & Co. analyst Lauren Rich Fine figures could be worth at least $100 million.
In the near term, rising costs will keep AOL's core business in the red. The company is scrambling to lease $350 million worth of new equipment to nearly double its network capacity by the end of April. When the upgrade is completed, it will let AOL carry more traffic on its own network at a lower cost than it pays to send traffic over other suppliers' systems. But that leasing expense, combined with increased usage under flat-rate pricing, will weaken gross margins--one reason analysts now figure AOL will lose up to $15 million in the current quarter.
The key to emerging from the red and staying there will be finding new sources of income. In the past, the formula was to keep adding members--a strategy that AOL can't aggressively pursue at the moment. The result: More than ever, the company needs to develop other revenue streams, such as online advertising and fees from electronic transactions, to bolster cash flow and profits. One strategy AOL watchers say is under consideration is charging additional monthly fees for "premium channels"--just as cable companies charge for channels such as HBO. But that gambit, which could be unveiled by yearend, might backfire: Customers may see it as reneging on the flat-rate pricing they signed up for.
EXTRA EYEBALLS. Advertising and merchandising fees could be a surer bet. This is where the soaring usage and thousands of new customers drawn in by the flat-rate plan could pay off. Those extra eyeballs mean that AOL can sell more ads. Revenue from other sources, such as online transactions, is already way up, climbing 50% in the most recent quarter, to $58.2 million. Smith Barney's Cohen, a bear on the stock, figures AOL could bring in more than $270 million from these fees for the fiscal year ending in June. The take could hit $510 million in fiscal 1998, or about 18% of revenue, he figures. "We'll see the real benefit next year," says Robert W. Pittman, head of AOL's core online service.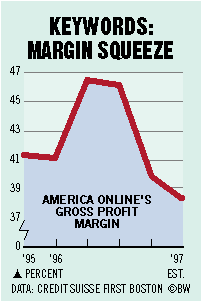 But the company faces stiff competition for ad dollars. Microsoft Corp.'s reinvigorated Microsoft Network is picking up steam, thanks to its glitzy new service and a $100 million ad campaign. Analysts still expect AOL to spend more than $100 million on marketing in the current quarter, but the company plans to hold membership flat for a few months. And slower growth could cut into any new ad revenues. "Nobody knows what the advertising climate will be next year," says Peter Krasilovsky, a vice-president at market researcher Arlen Communications Inc. "It's risky." Then again, so are nearly all the alternatives AOL faces.
Before it's here, it's on the Bloomberg Terminal.
LEARN MORE