U.S.: Trouble Ahead In The Battle To Contain Labor Costs
Companies can no longer rein in benefits to offset pay raises
by
Labor costs are moving front and center in the outlook for 1997, and it's not just wages. The new pressure on the bottom line will come from benefits.
For the past two years, businesses have taken some of the sting out of rising wage costs by reining in the growth of benefits, mainly health care. But that offset is now ending, at a time when tight labor markets are already pushing up wages (chart).
Moreover, job markets are likely to tighten further. The latest data offer more evidence that the economy's late-1996 momentum is carrying into 1997: Consumers are extremely upbeat about the economy, and although December factory orders dipped, their trend remains up, and unfilled orders continue to swell.
Rising labor costs mean that businesses will face a tough choice: Raise prices, if they can, to cover the added expenses and protect profits. Or hold prices steady, hoping that increased sales and productivity gains will save the bottom line. How the price-profit dilemma plays out will determine inflation's performance this year. Service companies may find it easier to lift prices, since they are more shielded from global competition than goods producers, who are more likely to suffer some squeeze on their profit margins.
THE TRENDS in wages and benefits are best captured in the Labor Dept.'s employment cost index, which has been elevated to market-moving status after Federal Reserve Chairman Alan Greenspan praised its virtues as an inflation barometer. The quarterly ECI is preferred over the monthly data on average hourly pay because it covers more workers--including those on salary and commission. It also uses fixed weights, which compensate for wage growth due to shifting employment patterns, and it includes benefits.
Total compensation per hour in the private sector rose 0.8% in the fourth quarter, faster than the 0.6% increase in the third quarter. The fourth-quarter increase in the overall ECI would have been greater, except for a 0.6% drop in pay in financial services. That decline seems questionable, though, in light of Wall Street's record bonuses last year. For the entire year, the ECI rose 3.1%, up from 2.6% in 1995. But wages alone advanced 3.4% for the year, much faster than the 2.8% gain in 1995, while benefits edged up 2%, a shade below their 2.2% rise in 1995.
Compensation in 1997 will very likely grow at least 3.5%, about a percentage point faster than the expected increase in prices, measured by the price index for gross domestic product. The cost of benefits could easily rise 2.6%. This may not seem like much, but benefits account for a hefty 28% of total costs. And their share is growing. Moreover, the acceleration in benefit costs will happen just as wage growth picks up, to about 4%, as businesses continue to bid up salaries to attract qualified people.
Tight labor markets also mean that workers may begin to lose their "heightened job insecurity" that, in Greenspan's words, "explains a significant part of the restraint on compensation and the consequent muted price inflation." In fact, the Fed made a notable change in its take on labor shortages and pay in its latest Beige Book on regional economic activity. After months of saying that a shortage of skilled labor had not pushed up pay, the Jan. 22 report noted "scattered evidence" that wage pressures were occurring.
BUT IF WAGES CLIMB, so will benefits. That's because about 60% of all benefits--including paid leave, overtime pay, defined contributions to pension plans, and social security payments--are tied to wages. In fact, every dollar increase in hourly pay lifts the bill for these benefits alone by about a quarter.
Moreover, the tab for health care is beginning to outpace overall benefits growth. According to a survey by benefit consultant Foster Higgins Inc., health-care costs may rise 4% in 1997, after a 2.5% increase in 1996. In the past, businesses cut health-care costs by switching to health-maintenance organizations. Foster Higgins says that 77% of workers were in such programs in 1996, up sharply from 49% four years earlier.
But with the market so saturated, HMOs will have a harder time attracting new customers. So, premiums for existing members will start to rise. That's especially likely since health-care providers will need to recoup the money lost by the Medicare cuts proposed by the Clinton Administration.
Of course, productivity gains will offset some of the increase in labor costs, and that will hold down the growth in unit labor costs. However, the expansion is completing its sixth year, and productivity gains this late in the business cycle are much harder to come by in a climate of tight job markets and strong demand.
EVEN AS FATTER PAYCHECKS pose a problem for companies, they are also boosting consumers' spirits. The Conference Board's index of consumer confidence jumped from 114.2 in December, to 116.8 in January, a 7 1/2-year high. The indexes covering the economy's present situation and the expectations for six months down the road both rose solidly (chart).
Consumers are upbeat about job prospects, with 30.1% saying that jobs were plentiful, also a 7 1/2-year peak. And fewer consumers expect their incomes will shrink in the next six months. Little wonder, then, that consumers' buying plans edged higher in January. Indeed, January store sales through the week ended Jan. 25 rose a solid 0.8% from December, according to a weekly survey of retailers by LJR Redbook Research.
Stronger demand is good news for manufacturers because it means that orders will stay on a rising trend. New bookings for durable goods fell 1.7% in both November and December. The drops, however, were not broad but concentrated in electronic equipment. Some of the decline is due to unusually large price drops in the fourth quarter, especially for computer memory chips. Excluding electronic equipment, new orders rose in both months.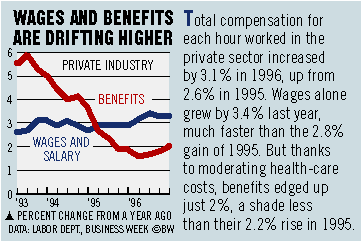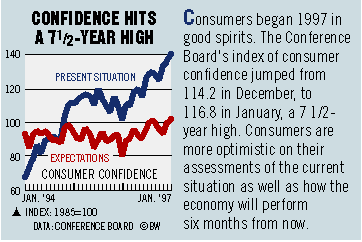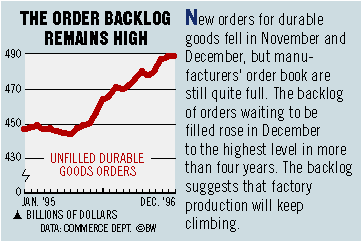 Manufacturers headed into 1997 with the biggest backlog of unfilled orders in more than four years (chart). That means that industrial production and factory payrolls should continue to increase in the first half. Of course, better job growth in the factory sector will tighten labor markets further, increasing the need to raise wages to hire skilled workers.
Which brings the outlook back to labor costs, accounting for about two-thirds of the average business's total expenses. Clearly, companies will no longer be able to rely on slowing benefit costs to offset higher wages, so they will have to hunt elsewhere to cut expenses. The trouble is, this far into an expansion, with available labor and production capacity already starting to strain, those kind of savings are hard to find.
Before it's here, it's on the Bloomberg Terminal.
LEARN MORE