Shoplink: From Computers To Croissants
A hardware distributor rolls into online grocery shopping
Paul Judge
It has been the brilliant idea behind almost a dozen business plans so far: relieve Americans of the time and trouble of buying groceries--and make a fortune by capturing a sliver of a $400 billion market. Ventures aimed at taking grocery orders by phone, fax, and computer, then delivering the goods to your door, have been launched in cities from coast to coast. But none has really caught on. Peapod, the biggest and in operation since 1989, still claims only 30,000 customers in five cities. The company declines to comment, but people familiar with it say it's unprofitable.
So what makes Robert J. Crowell, chairman and CEO of Elcom International Inc., think he can make online grocery shopping pay off? The brash, 45-year-old entrepreneur figures it's mainly his experience selling PC gear electronically to corporations such as Smith Barney Inc. Elcom, a $600 million computer distributor in Norwood, Mass., generated close to $400 million in revenue that way last year through its Catalink Direct Inc. division, relying on homegrown online ordering systems. What works for keyboards and monitors may work for cantaloupes and croissants, too. "We're going to change the way people shop," Crowell boasts.
He's attacking the market from a relatively new angle. Instead of working with grocery stores, as Peapod and the others have, his ShopLink Inc. system will bypass them. Set to begin operating in February, a month later than first planned, ShopLink will run a refrigerated warehouse in each of eight cities by yearend, beginning with Boston. The startup cost: $1.3 million each, including inventory. For fees ranging from $7 to $35 a week, customers will use PCs--or phones or fax--to order anything they usually buy in supermarkets, from lettuce and hamburger to cat food and toothpaste. ShopLink will then deliver to homes and offices.
As ambitious as that sounds, analysts think Crowell has the right idea. "Taking the grocery stores out of the equation is the key to making this profitable," says Frederick Schneider, director of Andersen Consulting's food and consumer-goods practice. "The race is on right now to see who can prove out this business model first." Amazon.com, a Web-based bookstore, has shown the way by relying mostly on distributors to ship books directly to customers.
Peapod's approach couldn't be more different. It has signed exclusive deals with supermarket chains in Atlanta, Boston, Chicago, Columbus, Ohio, and San Francisco. That way, it gains access to customers who already know the stores supplying their food. Says Derrick Q. Milligan, a Peapod spokesman: "We're not revolutionaries in this channel, we're evolving it."
ROTTEN PRODUCE? Crowell reckons his approach, though, will yield superior gross margins--about 15% vs. the approximately 5% that Peapod and similar services work with. Finding local wholesalers willing to supply him as well as their established supermarket customers won't be a problem, he insists: "They sell to anybody who can pay." And his warehouse-to-your-house strategy isn't entirely unproven. Hannaford Brothers Co., a New England grocery chain, established such a service, called HomeRuns, last July, just for the Boston area. It's delivering more than 500 phone and fax orders a week.
Still, there's no guarantee that Crowell won't wind up with a handful of rotting produce. Until now, he has only linked corporate buyers to PC makers and taken a percentage of each order. ShopLink, by contrast, will be risking some inventory costs, about $750,000 worth per location, much of it perishable. Crowell will also have to invest in bonded personnel and delivery trucks.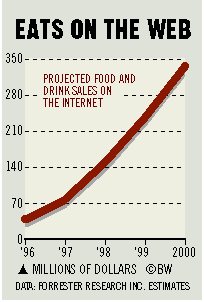 And even if ShopLink succeeds, what's to keep Wal-Mart Stores Inc. and other giants from muscling in? David D. Glass, Wal-Mart's CEO, has predicted that online shopping will be the lowest-cost form of retailing, and the chain is already moving into selling nonfood items on the Web. Wal-Mart, Crowell says, "would do wonders to validate our business model." Besides, the grocery market is so big that "it doesn't matter if we get on their radar or not." Still, with the demanding PC business to manage and a new business model to prove, Crowell will have to run hard to avoid being left on the shelf.
Before it's here, it's on the Bloomberg Terminal.
LEARN MORE