She's A Superstar In Damascus
Kirk Albrecht
In the famous Hamadiya market in the old city of Damascus, there are two names everyone knows. The first is Hafez Al Assad, Syria's President for more than a quarter century. His face peers down from hundreds of posters. There are no visible signs of the second household name, but it's as cherished here as it is unknown in the rest of the world: Ghada Shouaa.
As the first Olympic gold medal winner in Syrian history, Shouaa is a heroine for a nation. The tall, 24-year-old athlete won her medal in the women's heptathlon at the 1996 Atlanta Olympics, after front-runner Jackie Joyner-Kersee of the U.S. dropped out because of troublesome hamstrings. And she's the odds-on favorite in the Sydney Olympics in 2000.
Faces here light up at the mention of Shouaa's triumph, as if all 16 million Syrians took part in that historic day. A socialist dictatorship, Syria is known for its closed-door policies and staunch resistance to Israel, not for turning out athletes. Until Shouaa came along, the best Syria had done was a 1984 silver Olympic medal in wrestling.
PRESIDENTIAL PRAISE. Hundreds of thousands of cheering Syrians lined the streets when Shouaa returned from Atlanta in August. The motorcade ended at the Presidential Palace, where her most prominent fan, Assad himself, congratulated the athlete with a polite handshake. "She is a star," says Amin Mahmoud, a merchant I meet in the old city shop where he sells Iranian silk and wool carpets. "Everyone in Syria loves her."
There's not much at Tishreen Stadium in the center of Damascus to suggest a training ground for champions. A drab concrete structure with a patchy grass field half-covered in mud, the place reminds me of my Berwyn (Pa.) high school's simple athletic field. The jumping pits are bordered by broken cement. A cavelike weight room is crammed under the bleachers.
On the cold but sunny December morning when I first meet her, Shouaa goes about the job of being a champion. Training for the World Track & Field Championships in Athens this spring, she stands by the pole-vault pit, listening to her coach, ignoring the stares of fans. Everyone knows who she is. Young men jog past, turning their attention to this great one. A workman chews sunflower seeds and gawks. "It's very tiring right now, people always want to see me," she says.
Despite Shouaa's celebrity, there is no marketing machine here for athletes, no agents to get the gold medalist's face on a box of Wheaties--or even a carton of Syrian-made 5-Star orange juice. There were no bookings with David Letterman or Jay Leno, perhaps for good reason: Shouaa doesn't speak English. She gave some quick interviews through a translator after the games and was gone.
Today, Shouaa's world is controlled more than ever by the state, and by her coach, Kim Buchantsev, the man who coached the Soviet decathlon team from 1986 to 1991. Buchantsev sets out Shouaa's training regime. The Syrian Athletic Federation, which runs 300 sports clubs for both sexes, oversees her schedule and all her personal needs. Such control would make Western athletes chafe, but it frees Shouaa to concentrate on her training. A basketball player on Syria's national team before switching to track and field six years ago, Shouaa doesn't have to scramble to find private sponsors to underwrite training and travel expenses. She lives on the state's tab in Damascus, not in her home of Maharde, a Christian town 150 miles to the north.
Syria's sports structure is like the way the old Soviet Union cared for its athletes. "We see sport as social and educational work to build the country," says Samih Moudallal, president of the Syrian Olympic Committee. Shouaa is a "product of our system of encouraging sport," he adds. He says the clubs develop world-class talent. But I wonder, since Shouaa is the country's first international champion. Most Syrians I meet give her the credit for her success.
Despite the lack of endorsements or talk-show invitations, Shouaa makes out just fine. The state has given her a Mercedes-Benz and a Daewoo, a Korean luxury sedan, and it is building her a spacious villa. She lives in a $450-a-night suite in one of Damascus' best hotels. When her competing days are over, she is guaranteed a good job--by presidential directive. She hopes to open the Ghada Shouaa Sports School for athletes. For now, Syria shells out $200,000 a year keeping its best ambassador happy.
FREEDOM. Shouaa's story has attracted the media, mainly from Arab countries. It took three months to set up my interview. Shouaa, it turns out, is bitter about her experience with U.S. journalists. After she won, she didn't get the attention given Joyner-Kersee, Shouaa believes, because she's Syrian. "They really didn't care about me in Atlanta. They only spent time with U.S. athletes."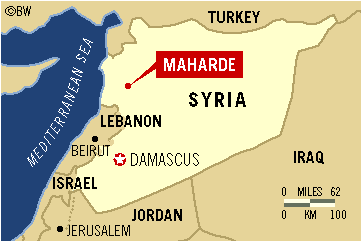 But that's a rare complaint, because Olympic success has brought her many advantages, among them freedom. Not that Syrian women are kept behind closed doors, like their Saudi and Ira-nian sisters. Nor are they forced to wear all-embracing chadors. In fact, miniskirts are common in cosmopolitan Damascus. Still, Shouaa, a Christian, has an unusual amount of independence in a country that is 90% Muslim. Many women don't venture out without a male escort. If they do, they scurry from home to market, keeping their eyes to the ground. But Shouaa says: "I don't have any restrictions here being a woman." The fact that she shows up unaccompanied and an hour late for our interview, and that her whereabouts are unknown to her coach and the federation, make me believe her.
Stardom apparently hasn't jaded Shouaa. Off the track, she's friendly and easygoing. She laughs, cuts up, slaps backs, greeting warmly those who stop to wish her well--no star brush-offs here. At the end of a workout, she even sits on a rickety bench to drink sweet mint tea with a stadium caretaker. Being a star in a small country means remaining accessible. I wonder if Joyner-Kersee shares a Coke with the janitor.
Before it's here, it's on the Bloomberg Terminal.
LEARN MORE