My Chip Is Faster Than Your Chip
By
The crisis lasted only 15 months, but it seemed more like 15 years to W.J. "Jerry" Sanders III, the chairman and founder of Advanced Micro Devices Inc. AMD's misfortunes started months before its Pentium work-alike chip, dubbed the K5, hit the market last spring. The chip was a year late--and a flop. Then came last year's semiconductor recession. AMD's 1996 sales plunged almost 20%, to $1.95 billion. Meanwhile, the company's stock skidded from a peak of 38 in June, 1995, to less than 11 in late July, 1996.
The drop in shares reflected trouble on another front: Wall Street's dismay over Sanders' purchase of rival NexGen Inc. a year ago. Analysts gagged at the price: a cool $630 million in stock for a company with sales of just $21 million.
Today, though, the Street is whistling a different tune. AMD's stock has bounced back to the low 30s, and erstwhile critics now see the NexGen merger as a crafty move. AMD's position is "better than it has been for a long while," says Daniel T. Niles, an analyst at Robertson, Stephens & Co.
NexGen's sales may have been weak, but its technology was strong. The acquisition handed AMD a state-of-the-art microprocessor on a silicon platter. Called the K6, the chip outruns Intel Corp.'s fastest Pentium Pro models, according to a competition that AMD staged at the Comdex trade show last November. Running new 32-bit software, the K6 was a tad faster than a Pentium Pro--but with existing 16-bit software, "we blow their pants off," boasts Sanders. And thanks to a smart licensing deal, the K6 will even feature Intel's own MMX (multimedia extensions) technology, which speeds up the processing of images and sounds. "This is uncharted territory for us," Sanders says. "We've never had even equivalent performance with Intel before."
Intel declined to comment on the K6. BUSINESS WEEK wanted to verify Sanders' claims by running its own race, pitting a K6 against a Pentium Pro, but AMD wouldn't furnish a chip.
The K6 is slated to hit the market in April, and analysts figure AMD could sell more than 5 million this year. That could produce revenues of $800 million in 1997--and $3 billion in 1998, estimates analyst Mark L. Edelstone of Prudential Securities Inc. Without the NexGen design, AMD could have been out of the race. Its own next-generation chip was so far behind schedule it wouldn't have been ready until around 1999. And Sanders admits that AMD's own K6 design, now scrapped, wasn't as good as NexGen's.
FIRED UP. All this newfound optimism is really a tale of how the tail--NexGen--wagged the dog. "Since acquiring them, we've basically had to turn the company upside-down," says Sanders. More than a few feathers have been ruffled by NexGen's leaders: founder and CEO S. Atiq Raza and Vinod Dham, a 10-year Intel veteran who joined NexGen in May, 1995, as chief operating officer. In particular, the pair lit a fire under AMD's manufacturing operation.
AMD's factory managers had focused on production yields for the K5, because that's the key to chipmaking profits. But high yields were coming at the expense of faster chips. To make sure that nearly all the K5s made were sold, AMD set its speed too low, relegating the chip to also-ran status. The K5 could match only 75- and 90-Mhz Pentium models--while Intel and rival Cyrix Corp. were selling chips operating at 133 Mhz or more. Dham insisted on sacrificing some efficiency for speed. "When you're this far behind, you have to have a sense of urgency," he says. The gamble paid off: K5 sales doubled almost overnight.
So far, Sanders is pleased with Raza's and Dham's remodeling. "These guys have added a new dimension to the company," he says. AMD's other businesses, which account for 70% of revenues, are looking up, too. The company is now second only to Intel in the market for flash memory, used in most PCs and cellular phones. After a slow 1996, when sales rose only 10%, AMD's flash business seems set to increase 15% this year, to around $615 million, says Alan J. Niebel of Semico Research in Phoenix.
Still, AMD's comeback is no sure thing. The delays that plagued the K5 damaged credibility and cost AMD some customers--most notably Compaq Computer Corp. "It's an uphill road to win back `mind share,"' says Dataquest analyst Mark A. Giudici.
The K5 chip's troubles came to a head in mid-1995. After three years of development, the company found bugs in its first designed-from-scratch challenge to Intel. To settle a legal feud, AMD had agreed to stop cloning Intel's chips in return for broad access to Intel technology, including MMX. When the K5 finally showed up, PC makers generally panned it. Only 2 million were sold in 1996, mostly overseas. That's roughly what Intel sells in a week. Worse, to swat the K5's bugs, AMD had plucked engineers from its K6 effort, putting that chip further behind.
A GOOD FIT. Enter NexGen. The nine-year-old Milpitas (Calif.) company was admired for its design prowess, even though its first chip, the Nx586, didn't fit into standard Pentium sockets. NexGen's follow-on processor suffered the same drawback--until Dham jumped ship from Intel, where he had been the Pentium's chief designer. Dham insisted on changing the Nx686. If the chip fit Pentium sockets, he reasoned, PC makers could upgrade their Pentium-class systems to Pentium Pros. Even Intel doesn't offer that. Its Pentium Pro requires a special motherboard.
However, the redesign intensified a cash shortage and forced NexGen to begin shopping for new investors. Marshall Cox, a NexGen board member who once worked with Sanders, brought the two companies together in September, 1995. Both sides immediately saw the light. Their merger was announced on Oct. 20.
Sanders, knowing a good thing when he sees it, has kept his hands off NexGen. Raza and Dham, however, had no compunction about shaking up AMD. In addition to confronting AMD's manufacturing crew, Dham challenged the K5's designers--and discovered another cause for the K5's disappointing speed: some sluggish circuits. After these were revised, performance jumped more than 30%, and AMD now markets models that match 166-Mhz Pentiums. Armed with these faster chips, AMD could sell 3.1 million K5s this year, estimates Salomon Brothers Inc. Intel will probably retaliate by cutting Pentium prices, but Sanders vows to keep the price of AMD's chips 50% less than comparable Intel offerings.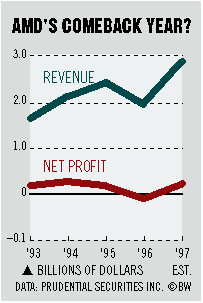 If AMD's K6 does indeed outperform the Pentium Pro, no doubt the king of chips will push hard to prevent the K6 from taking root. By mid-1997, Intel plans a cheaper version of the Pentium Pro, code-named Klamath, that will run existing software faster. Moreover, Klamath will require a new and different socket. Sanders hopes some PC makers will prefer using the same motherboards for both K5- and K6-based systems. Most PC companies are keeping mum about any K6 plans, although Acer America Corp. and a few other K5 customers say they'll consider the new chip--when it arrives.
Prudential's Edelstone gives AMD 18 months of smooth sailing before the socket wars heat up. If by then the chipmaker hasn't won over some key PC companies in the U.S. to complement its strength in foreign markets, Sanders may be forced to resume playing follow-the-leader with Intel. And that's something he never wants to do again.