Is Malaysian Air's Pilot Badly Off Course?
Tajudin's changes have ruffled feathers--he may lose his job
by
Tajudin Ramli is the picture of confidence as he sits in his corner office on the 23rd floor of his skyscraper in downtown Kuala Lumpur. In the two and a half years since he has led Malaysian Airline System, Tajudin says, he has cut costs, improved efficiency, expanded the fleet, and forged strategic partnerships with numerous carriers. Now, he wants to increase his minority stake in MAS to a controlling 51%, up from 29%, to ensure his tenure at the helm. "I've expended a lot of effort in changing the company," he says. "I intend to keep it for a long, long time to come."
Tajudin may be confident of his future, but plenty of others in Malaysia's business community say he is fighting for his job. A dealmaker with ties to such political leaders as Prime Minister Mahathir Mohamad, Tajudin, 50, has tried to turn the airline in the right direction. Yet Tajudin's many critics say his changes at the flag carrier have produced disgruntled employees, slumping stock prices, bad food, and extensive delays. His critics include labor unions, foreign analysts, the local press, and perhaps some powerful politicians. Malaysia is eager to present a good image when it hosts next year's Commonwealth Games, and no one wants thousands of important visitors complaining about poor service at MAS. So the country's leaders may not be content to sit back and wait until MAS rides through a turbulent period.
SAD END? With the government still exercising control over the ostensibly privatized MAS, it would be a relatively simple matter for the Transport Ministry to deny Tajudin's request to buy an additional 22% of the airline and, instead, depose him. That would be a sad end to Tajudin's role at MAS. Even with Tajudin pushing for restructuring, the government has kept a watchful eye on the carrier and discouraged layoffs. That's hampered Tajudin in restructuring, a process that has been messy and painful enough at airlines the world over.
Despite the curbs, Tajudin and his team managed to make progress. The workforce of 16,000 employees is 20% smaller than when he took over, thanks to attrition and restructuring. MAS decreased turnaround time to better utilize its fleet. It started cooperative agreements with such airlines as Britain's Virgin Atlantic Airways Ltd. and Ansett Australia. Through an affiliated company, Tajudin has taken equity stakes in small regional airlines from Cambodia and Maldives to help make them feeder airlines for MAS. He's forming a joint venture with General Electric Co. to do engine maintenance in Malaysia for other Asian airlines.
MAS executives concede that service has suffered, but they blame labor activists, who don't like the way Tajudin is forcing the government bureaucracy to adjust to the private sector. "We're trying to change the culture so it benefits the customer rather than our own staff," says Bashir Ahmad, MAS senior vice-president.
That argument wins little sympathy from many analysts, who don't see much payoff for all the effort. Even though revenues were up 13%, profits dropped 11%, to $55 million, in the first half of its current fiscal year. The airline was hit by rising fuel prices and a drop in traffic because of a cholera outbreak in Penang that scared away travelers.
NEW JETS. One important area where performance has been so-so is MAS's ability to attract high-paying customers. The percentage of seats filled in the lucrative first-class sections of international flights is just 27%. MAS has spent $10 billion to buy 25 new Boeing jets, which will improve its image and efficiency. But the airline's chief rival, Singapore Airlines, is expanding aggressively, too, and it already enjoys a stellar reputation for first-class service. While Kuala Lumpur is negotiating an open-skies agreement with Washington, Singapore has already concluded one liberalizing air traffic between the two countries. "The two (airlines) will be at each other's throats," says an analyst.
None of this griping would matter if the government still had confidence in Tajudin. Although the Transport Minister has expressed public support, critical articles in the press may be a sign that the government is backing away from Tajudin and may put MAS in someone else's hands. As a consolation prize, analysts believe Tajudin might receive another telecom operator to augment his other major holding--Malaysia's biggest private cellular phone network, Technology Resources Industries.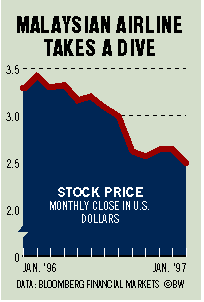 The embattled chairman dismisses rumors of his ouster. MAS will turn around soon, he promises, as it prepares to move from its cramped quarters at Kuala Lumpur's airport to an expansive new facility at next year. Once that happens, "we will be a respectable, profitable airline," he says. Then, "I'll be able to take a step back and allow senior people to run the business with minimum interference from me." Since Tajudin Ramli and his critics alike agree that soon he won't be making so many decisions at MAS, the question is whether his disengagement will be voluntary.
Before it's here, it's on the Bloomberg Terminal.
LEARN MORE