Germany: Exports Will Brighten Winter's Shadow
by
After surging to an annual growth rate of 4.6% in the second and third quarters of 1996, Germany's economy has slipped into another round of stagnation. But growth should pick up this spring, with momentum building in the second half and into 1998.
Growth was set to cool off anyway after the unsustainable midyear spurt fueled by special factors. But another severe winter has hammered construction, and cutbacks in government social spending have hit retail sales and car buying. The harsh weather also has boosted the already high jobless rate, because construction workers must now register as unemployed in order to receive compensation for job losses due to bad weather. Joblessness has been climbing since May, and the December rate jumped to a record 10.9%.
Although chronically high unemployment will continue to restrain consumer outlays, exports and capital spending are set to lift the economy out of its winter doldrums. The 8% drop in the trade-weighted German mark since March, 1995, will fuel enough export growth to supply about 1 percentage point to 1997 economic growth, and global demand is picking up. Despite the lower readings for overall business optimism in December (chart), the same survey shows that export expectations hit a two-year high.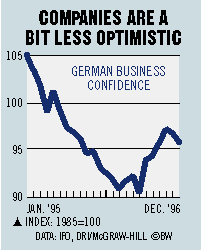 Growth is set to broaden as the export gains spur business investment. The cheaper mark, slower wage growth, improved productivity, and the promise of corporate tax cuts will boost profits, and rates of capacity use are already beginning to rise. Moreover, interest rates are low across all maturities, and with inflation below 2%, real rates are also low.
The rub in the outlook is unemployment, which will remain high in 1997. The economy grew a preliminary 1.4% in 1996, which is below the 2% threshold needed to begin to reverse the rising jobless trend. Analysts generally expect growth of about 2.5% this year, approaching 3% in 1998, as the drag from past fiscal belt-tightening eases.
Before it's here, it's on the Bloomberg Terminal.
LEARN MORE