Egyptian Cotton May Be King Again...But The Mills Need A Makeover
Sarah Gauch
Cotton ginning at National Cotton Co.'s factory in the Fayoum oasis hasn't changed much in the last century. Here in a dingy building 80 kilometers south of Cairo, with wooden floorboards and cotton clinging to the rafters, a dozen workers feed the fluffy crop into 100-year-old British ginning machines.
After the British brought their machines to Egypt to take advantage of the world's best long-staple cotton, the crop boomed, making Egypt the world's leading exporter of this top-quality fiber. But in the 1960s, Gamel Abdel Nasser's socialist controls caused production and exports to crash.
Now, after bottoming out in 1995, Egypt's cotton crop may be poised to recover--if President Hosni Mubarak's government can make up its mind to fully deregulate. Egypt has been gingerly liberalizing the cotton trade since 1994, and a spate of major reforms last February gave the industry a boost. But there's a long way to go. "The cotton market is not completely free," says Aly Sherif, executive director of Alcotexa, the association of private and public traders. "But when it is, Egyptian cotton will regain its crown."
The reforms so far have produced results that are nothing to sniff at. Cotton exports this season, which began on Aug. 1 and will run to July 31, amount to 61,000 tons, $150 million worth, up more than 200% from the 20,000 tons exported last season. While this season's cotton exports accounted for only 3% of Egypt's exports, cotton remains a source of pride and an essential raw material for the textile industry, which employs 6 million.
The key reforms included lifting limits on how much cotton could be exported and allowing traders to export all types. Egypt also reversed its policy of allowing cotton imports from only California and Arizona. Mills can now import medium- and short-staple cotton, freeing up the more lucrative long- and extralong-staple varieties for export.
Egypt is now second to the U.S. in the export of long- and extralong-staple. The U.S. has exported around 86,000 metric tons of its Pima long-staple this season, but Egyptian experts say that next season their country could move into the lead. While long- and extralong-staple account for a small percentage of the world's cotton, they produce an exquisitely soft, silky cloth.
REFUSENIKS. But even the prospect of overtaking the U.S. doesn't overjoy some private traders, who say reforms didn't go far enough. Because of price controls for the export trade, they're selling at a loss, so many have refused to export this season. What makes them even angrier is that public-sector traders get state subsidies when they sell to local textile mills, whereas private traders are only subsidized if they export. "People are getting fed up," says Amin Abaza, managing director of Modern Nile Cotton Co., a big Cairo trader.
By March, the government must decide next season's cotton policy. If further reforms are forthcoming as promised, the industry may blossom. "You will see something very important," declares Abaza. "People will start to invest in improving the quality of cotton, of ginning, wrapping, and pressing--and in opening new markets abroad."
Egyptian entrepreneurs dream that just as the Swiss are known for fine chocolate and the Cubans for cigars, one day Egypt will be famous for luxurious cotton shirts. While a large percentage of Egypt's cotton goes to local textile mills, industry experts say these mills don't make full use of top-quality cotton because they lack modern machinery and creative management. "We're taking a Rolls-Royce and using it for a taxi," says Ayman Nassar, managing director of cotton traders NASSCO Trading.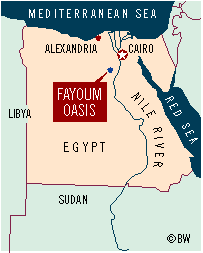 Egyptian mills usually make 30-count yarn with local cotton, while the Japanese make 200-count with it. A shirt of this Japanese material can retail for $500. "It's like silk, but it's better," says Mohamed Marzouk, director of Cairo-based Giza Spinning, Weaving, Dyeing & Garments Co. "It's softer, more flexible, bulkier. It has life in it."
The key to upgrading the textile industry, many observers say, is further privatization. The government began privatizing in February, 1995, but less than 1% has been sold off. The problem is that outdated plants don't fetch a high price and will require many layoffs to become profitable. But unless officials find a way to lure buyers, Egypt will continue to export its cotton in bales, not in chic shirts.
Before it's here, it's on the Bloomberg Terminal.
LEARN MORE