Dow Jones: A Brighter Glare
By
Amid the great bull market, shares of Dow Jones (DJ), publisher of The Wall Street Journal and Barron's, have been shut out of the party. The stock has been locked within the 30 to 40 range since 1988. Most analysts have downgraded their rating of the stock, now at 38, based on lower earnings projections over the next two years.
Enter the undaunted value investors and hardball hedge-fund players. One of them is money manager Michael Price, who runs the Franklin Resources Mutual Shares Fund. He accumulated just under 5% of Dow Jones's 96 million shares in recent weeks.
"There is tremendous value in Dow Jones," Price says, adding that the "risk-reward ratio is very good." He's determined to push management and its controlling shareholders into taking steps to boost the soggy stock. "We always favor managements that bring about a structure that provides value to shareholders," he adds. Price was the force behind the move that pushed Chase Manhattan into merging with Chemical Bank.
But there is another aspect to the Dow Jones story: Some money managers say that Reuters Holdings, the global news and information company based in London, has sent feelers to some of the controlling DJ shareholders about their interest in a merger, joint venture, or an outright sale of Dow Jones. Reuters, a direct competitor of Dow Jones in global electronic news, emphasized in its feelers that it won't do anything hostile, says one investment banker. Reuters says it is always looking at opportunities but never comments on them.
Price says "there are many companies around the world that would love to look constructively" at Dow Jones and to get a chance to do what should be done to improve returns. Price has yet to meet with management or the board.
Price says Dow Jones's plan to invest $650 million in its Telerate unit, a worldwide provider of financial information, over three years is a huge amount that deserves closer scrutiny. Telerate, which has been a drag on Dow Jones's earnings, has been losing market share to Reuters and Bloomberg, another provider of electronic news and financial information.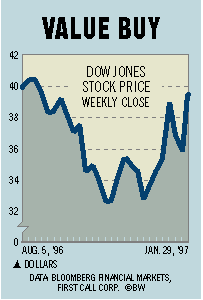 Management's plan to put more money in Telerate "should be measured against how much such an investment would return after three years--and against other options that may well provide better returns for Dow Jones." It's a "simple economic test" in justifying that kind of risk, Price says.
Behind the heat on Dow Jones is dissatisfaction among some of the heirs of the Bancroft family, who control 70% of the voting power. As reported recently in Fortune, one of the heirs, 32-year-old Elizabeth Goth, is dismayed with the stock's performance. Another heir, William Cox III, has also publicly expressed unhappiness over the poor performance. Cox and Goth couldn't be reached. Dow Jones declined comment.
Before it's here, it's on the Bloomberg Terminal.
LEARN MORE