This Black Glop Has A Bright Future...And So Does Its Close Cousin
Jane Knight
Critics call it the fuel from hell, though it comes from a lush green paradise. Thick stands of pines cover the flat expanse crisscrossed by languid rivers. Fruit-laden cashew bushes grow wild by the roadside. But also running along the road is something less scenic--a seemingly endless gray steel pipeline.
Underneath this verdant expanse lies enough oil to cover Denmark. It's not your everyday crude: When a worker turns on a tap at a well, the substance that oozes out hardly appears liquid. "See--it's not moving," he says, holding a cup of it upside down.
It sure has some folks hopping, though. This viscous bitumen is the major constituent of Orimulsion, a revolutionary fuel embraced by many electrical plant owners for its cheapness but branded by environmentalists as the dirtiest fuel in the world.
For decades, little attention was paid to the band of deposits known as the Orinoco Oil Belt, while state oil company Petroleos de Venezuela (PDVSA) concentrated on tapping lighter-grade reserves. But a study in the 1980s showed that one-fifth of the region's massive 1.2 trillion barrels could be recovered. That's equivalent to Saudi Arabia's proven reserves.
SHORT STEP. While the bitumen is too heavy to extract and sell in its natural form, PDVSA found it could be extracted and transported easily as a liquid emulsion. From there, it was a short though complex step to creating the patented chocolate-brown Orimulsion. "We call it the fourth fossil fuel," says Carlos J. Borregales, president of Bitor, the subsidiary responsible for Orimulsion.
Bitor made its first commercial sales in 1992 and now has a handful of long-term clients spanning the world from Canada to Japan. It had revenues of $200 million last year, made a modest $19 million profit, and hopes to hike sales fivefold by 2000, to 20 million metric tons.
The fuel from hell got a big boost last November, when China pledged to study a joint venture to build up to three processing plants in the oil belt to supply its needs. Representing almost $1 billion in investment, the plants would join Bitor's single existing unit. Borregales points out that resources are almost unlimited and that unlike coal, Orimulsion's quality is constant.
Although would-be clients may be wary of a single-source supplier, they do agree that Orimulsion can save them money. Florida Power & Light Co. says that a contract for 4 million tons a year would save the utility at least $4 billion over two decades. But the company has yet to convince the Florida government of Orimulsion's virtues. It is appealing a surprise decision last April not to allow Orimulsion burning in the state.
So how dirty is Orimulsion? Bitor says that if the right antipollution equipment is used, it is as clean or cleaner than coal. It has been accepted in Canada, Denmark, and Japan, all of which have strict controls. But environmentalists are skeptical. Besides air pollution, they're especially worried about spills. Since Orimulsion mixes with water and can't be cleaned up like an oil spill, they say it could wreak havoc on marine life.
Less than 1% of the Orinoco Oil Belt is worked by Bitor. A handful of joint-venture projects have sprung up there to tap into reserves of extra-heavy oil--one step up from bitumen.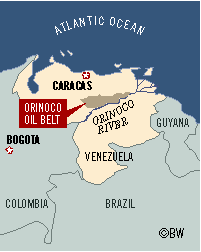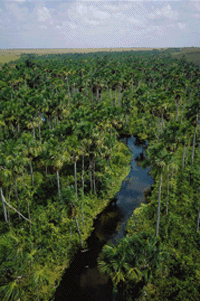 The schemes are still not operational, but companies plan to refine the oil locally into a lighter synthetic crude for export. The idea has been bandied about for some time, but a low projected return on investment was a deterrent. Now, though, technological advances and plans to share infrastructure costs mean that investment can be minimized, raising profits.
Some $10 billion in investment is expected over the next decade from four projects that involve companies such as Conoco Inc. and Mobil Oil Corp. PDVSA expects them to boost Venezuela's oil output by 700,000 barrels a day by 2006, making the projects a cornerstone in the country's plan to double production, to 6.3 million barrels a day. And other multinationals may jump in--turning this ocean of sludge into a shining pool of gold.
Before it's here, it's on the Bloomberg Terminal.
LEARN MORE