Olivetti Finally Does The Unthinkable
The sold-off PC unit may prosper--and the parent is healthier
by
Olivetti get out of personal computers? "Why, that's like asking Fiat to stop making automobiles." That was Italian tycoon Carlo De Benedetti's comment just 18 months ago, when billion-dollar losses in Olivetti's PC division were threatening to sink one of Italy's most famous companies.
In business, though, it doesn't pay to be too sentimental. Not long after De Benedetti uttered those words, angry institutional shareholders forced the embattled Olivetti chairman and chief executive to step down, ending his 18-year reign over what was once Europe's premier computer manufacturer. And on Jan. 20, Olivetti finally freed itself from its loss-making manufacturing operations in PCs by agreeing to sell the division to a buyout group led by a London-based American lawyer, Edward Gottesman.
How can Gottesman hope to make money with an apparent technology has-been, whose share of Europe's PC market has plummeted from 6.6% in 1993 to less than 4% today? By getting a good deal, for one thing. Gottesman and his partners are putting up only about $75 million in cash for control of Olivetti's PC business, which has $1.3 billion in sales. They're also getting rights to use the Olivetti brand for the next 20 years. "The name itself has quite a bit of value in Italy and is well known elsewhere in Europe," says Steve Brazier, associate director of Dataquest Europe.
Gottesman, 59, knows a thing or two about reviving brand names. In the late 1980s, he picked up at fire-sale prices and then turned around two ailing British firms--Raleigh Bicycles and porcelain manufacturer Royal Worcester. Earlier, during a stint in Italy in the 1970s, Gottesman negotiated a sale of a packaging company to De Benedetti and the two men have remained in contact ever since.
To help him remake Olivetti Personal Computers, the shy Gottesman--he declines all interviews--is getting a top local adviser: prestigious Piedmontese industrialist Giovanni Mario Rossignolo. Chairman of Swedish-owned Italian white-goods giant Zanussi, Rossignolo has good relations with key Milanese investment bank Mediobanca, labor unions, and top politicians in Rome. In Italy's byzantine business environment, Rossignolo's connections "will help smooth things out for Gottesman," says one banker close to the deal.
And there were already signs that Olivetti's PC unit, which was one of the first to manufacture the machines and is still the No.1 supplier in Italy, may be turning around. A complete overhaul of top management in late 1995 led to a revamp of its product line. Out went items like the sleek Envision, a superbly designed but overpriced family PC. Other cleanup moves ranged from cutting back on expensive direct sales to shifting production out of Italy. In notebooks, now totally outsourced, Olivetti last year managed to double its share of the fast-growing European market.
TELECOM CALLING. At the same time, the old Olivetti, now that it's freed of the PC operations, is looking a lot healthier. Its debt will be reduced by $190 million as a result of the cash payment and assumption of PC debt by Gottesman's group. The company can now focus on its growing investments in telecommunications. Cellular telephone operator Omnitel Pronto Italia, in which Olivetti is the largest shareholder, has clinched 700,000 subscribers since its startup in December, 1995, one of the best growth records in Europe.
Olivetti is also leveraging its links with France Telecom, which is eager to break into the rich Italian telecommunications market when European restrictions on competition are lifted in January, 1998. Increasingly viewed by investors as a telecom stock play, Olivetti shares have rebounded 43% since early November (chart).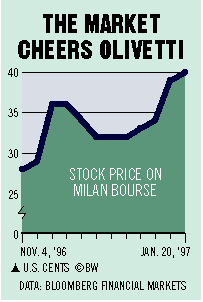 And what of De Benedetti? Once the enfant terrible of Italian business, the 63-year-old magnate still holds an approximately 13% stake in Olivetti through his Milanese industrial holding company Cir. But by all accounts his role in the sale of the PC division he once held so dear has been marginal. "Sure, I benefited from Carlo De Benedetti's knowledge," says Roberto Colannino, who became Olivetti's CEO last September. "But he didn't have anything to do with the negotiations." Reluctant as he may have been to part with the computer unit, De Benedetti may yet see it thrive in other hands.
Before it's here, it's on the Bloomberg Terminal.
LEARN MORE