Ibm And Lotus: Happy At Last
After a rocky start, benefits are flowing as Lotus blossoms
Paul C. Judge
When IBM snapped up Lotus Development Corp. two years ago, lots of folks figured the developer was doomed. The $1 billion software maker, they predicted, would get tangled in the $76 billion computer giant's bureaucracy and lose ground to Microsoft Corp., Netscape Communications Corp., and others that wanted a piece ofits key market--E-mail and "groupware" programs to help workers collaborate on a network.
It hasn't happened that way. While IBM doesn't break out Lotus sales separately, insiders say sales of Notes and cc:Mail rose almost 60% in 1996, to more than $650 million. When IBM briefed analysts on fourth-quarter earnings on Jan. 21, CFO G. Richard Thoman called customer acceptance of Domino, a new Web-ized version of Notes, "generally fantastic" and said the roster of Notes users doubled in 1996, to 9 million. That was one of the bright spots in an earnings report that put Wall Street in sell mode. With investors focusing on anemic 5.6% sales grow th, IBM shares fell 6%, to $158, the next day.
Lotus execs, meanwhile, are crowing about how--after a rocky start--they are finding it pays to play on Big Blue's team. "It took us a year and a half to find the leverage in the IBM relationship," says Lotus President Jeffrey P. Papows. That includes having IBM's sales force open doors and relying on IBM to help develop new products. There are unexpected windfalls, too, such as inheriting $20 million worth of IBM ad slots during National Football League playoffs--which Lotus used to plug Domino.
Or having Chairman Louis V. Gerstner Jr. help seal a deal. Last fall, Rockwell International Corp. was looking for software to let 40,000 workers collaborate on a network. Microsoft and Netscape, already big Rockwell suppliers, were vying for the business--until Gerstner told Rockwell CEO Donald Beall that Lotus Notes is central to IBM's strategy. That's when Rockwell signed up for Notes, says Dana I. Abrams, director of global initiatives at Rockwell. IBM also helped bag US West, Chrysler, Coca-Cola, Mobil, and Prudential last quarter. Inste ad of losing share, Lotus is gaining, says Dataquest Inc. "The world is coming our way," says Michael D. Zisman, executive vice-president and chief strategist for Lotus.
So is more competition. Netscape has staked its future on moving up market from browsers to groupware. And Microsoft is doggedly upgrading its E-mail and groupware. Both say such moves are vital to their strategies.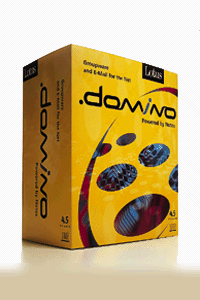 Lotus has its own Net plan. On Jan. 28, it will introduce Domino for electronic commerce, plus a simplified E-mail program. Also on tap: a series of Notes "applets"--small programs that can be zapped across the Web--written in Java. The project is getting a major push from IBM, which is building much of its Net strategy around the Sun Microsystems programming language.
So '97 looks good for Lotus, says Dataquest analyst Robert Lewin. But he warns: "Lotus' current success does not dictate its future success." In the coming battles, Lotus will need all the help it can get from its Big Blue parent.
Before it's here, it's on the Bloomberg Terminal.
LEARN MORE