Argentina: Booming Markets Mask Other Problems
by
After a severe recession, Argentina has finally recovered from the "Tequila effect," the fallout in Latin America from Mexico's 1994 peso devaluation. As a result, the financial markets are booming, and the government of President Carlos Saul Menem is moving to tame the deficit.
Output slumped in 1995 and early 1996, but Argentina's economy ended 1996 on firmer footing, thanks to strong capital spending and some fiscal stimulus. Fourth-quarter industrial output rose 12.3% from a year ago, almost recouping the 12.6% drop in 1995 (chart).
After falling 7% in 1995, real GDP likely grew 3.5% in 1996, and the consensus forecast is for a 5% gain in 1997. Increased interest payments on foreign funds and rising imports may widen the current-account deficit, but exports will get a boost from grain shipments, a key export. Argentina expects record harvests of wheat, corn, and soybeans.
Better growth prospects and falling inflation have lifted the financial markets. The Merval index of 24 leading stocks is up 40% since August, 1996. And with interest rates down, the government announced on Jan. 20 a plan to sell a record $2 billion in global bonds.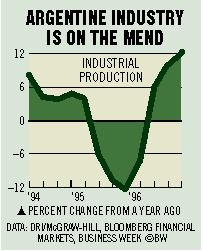 Workers, however, have not benefited from the upturn. Unemployment was 17.4% in the third quarter, and wages are falling. The government, business groups, and trade unions will begin talks in late January to try and overhaul Argentine labor laws. They hope to encourage hiring and at the same time boost productivity.
Another lingering problem of the recession is the higher budget deficit. The deficit doubled in 1996, to 5.9 billion pesos ($5.9 billion). The gap, however, remained below the limit set by the International Monetary Fund to continue IMF funding. To meet the IMF's goal of a 1997 deficit of 3 billion pesos, the government has ordered spending cuts of 285 million pesos. Private economists, though, warn that even with better growth and fiscal restraint, the 1997 gap will only shrink to 5 billion pesos.
Before it's here, it's on the Bloomberg Terminal.
LEARN MORE