A Scorching Rise For Larson Davis
By
For a little-known company that has yet to make a penny, Larson-Davis (LDII) is having a ball that shareholders hope won't end. Its stock, which traded as low as 41/8 in March, 1996, closed at 131/4 on Jan. 22. What's firing the stock?
Larson develops and makes precision measurement instruments, using its leading-edge technologies. Investors, such as Kyle Frey of Warburg Pincus Small Company Value Fund, say these are "in great demand." The company's patented products have made "significant technological breakthroughs," adds Frey, who thinks sales and earnings will ramp up strongly this year. The company has hinted that it's seeking strategic partners to commercialize some of its products.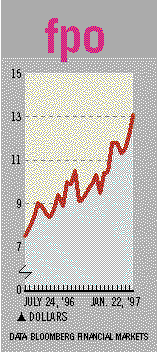 Analyst Phil Anderson of Unterberg Harris says Larson is poised to emerge as "the low-cost producer of several products." One such line is its Sensar mass-analyzing instruments. They rapidly separate, identify, and quantify components of any substance. Sensar revenues alone will grow from $1 million in 1996 to more than $27 million by 1997, figures the analyst, with a high 60% gross margin. Anderson sees sales growing from $13 million in the year ending June, 1997, to $61 million in fiscal 1998, up from $8.7 million in 1996. He expects earnings will jump to 70 cents in 1998, up from 2 cents in 1997 and a loss in 1996.
Before it's here, it's on the Bloomberg Terminal.
LEARN MORE