A Pack Of 800 Lb. Gorillas
The number of major corporate players is shrinking. Is that bad?
by
Is the U.S. economy becoming a private party? One commercial aircraft maker. Three major defense contractors. Five big railroads, soon to be four. Fewer banks, electric utilities, phone companies, hospitals.
In virtually every major American industry, the number of major players is shrinking. Domestic mergers and acquisitions totaled a record $659 billion in 1996, according to Securities Data Co. In 1997, the merger binge looks to be picking up steam. The latest: Raytheon's agreement on Jan. 16 to acquire Hughes Electronics' defense holdings for $9.5 billion and Banc One's Jan. 20 announcement of plans to buy credit-card issuer First USA for about $7 billion in stock.
EFFICIENCY GAINS. As far as Wall Street is concerned, bigger is better. Since 1994, stock returns for large companies have far outstripped the gains for their smaller brethren (chart), even though, historically, small stocks have boasted higher average returns in exchange for the greater volatility of their stock prices.
What's more, up to this point, the economic impact of the merger boom has been positive. Despite increased concentration, companies have not been able to raise prices, so inflation has stayed low. Meanwhile corporate earnings have soared, benefiting in part from merger-related efficiency gains.
But an economy of behemoths raises troubling issues in the long term. As mergers continue and the number of competitors declines, companies will be increasingly tempted to take advantage of their market power and raise prices--especially in industries such as defense, railroads, and health care, where foreign competition is less important. "It's the generation of transactions after these that are the problems," says George Mason University antitrust law professor William E. Kovacic.
That's true in the defense industry, where the Boeing-McDonnell Douglas and Raytheon-Hughes combinations will bring the value of deals since 1990 to over $60 billion. Future deals could virtually eliminate competition in many market segments. Indeed, after merging with Hughes, Raytheon will be the only domestic maker of the latest generation of air-to-air missiles. "If you're down to one or two manufacturers, one has to worry about that, even with a large and sophisticated buyer" like the Pentagon, says Harvey J. Goldschmid, an antitrust expert from Columbia University School of Law. Adds Paul G. Kaminski, Defense Under Secretary for acquisition and technology, who generally supports defense-industry mergers: "The consolidation is getting to the point where we need to keep looking at this very carefully."
HIGHER AIRFARES? In banking, the number of commercial banks has declined some 25% since 1990. Market share is becoming more concentrated in high-volume businesses such as credit cards and mortgage servicing, which require huge investments in technology to be profitable. After acquiring First USA Inc., Banc One Corp. will become the third-largest card company. Chase Manhattan Corp. will become the nation's second-largest servicer of home loans when it completes its recently announced acquisition of most of the mortgage operations of Source One Mortgage Services.
Are bank mergers hurting consumers? Not according to Chase Manhattan Chairman Walter V. Shipley, who heads the country's largest bank. "The evidence is that it is still very competitive in the banking business," says Shipley. "Our desire here is to gain market share. You don't gain market share by raising your prices."
But in places such as California, the surviving banks may be able to impose more fees and pay below-market rates on deposits. "Banking is still a neighborhood business," says PaineWebber analyst Lawrence W. Cohn. "There is no question that some large individual markets are quite concentrated." Such concentration may hit low-income consumers, since people with greater assets can more easily use companies such as Fidelity Investments and Merrill Lynch & Co. for their banking needs.
In railroads, the legacy of 15 years years of mergers "appears to have been favorable, on balance," says Willis Emmons, a Harvard business school professor. He argues that real shipping costs have declined over that period. But the acquisition of Conrail by either CSX or Norfolk Southern will bring the number of megacarriers down to only four, a distressing prospect for industries such as automobiles, coal, and food that ship much of their output by rail.
The same problem could happen in the airline industry, where mergers could eventually eliminate two or three major carriers. Preliminary talks between Delta Air Lines Inc. and Continental Airlines Inc. collapsed. But with their profit margins still lagging behind the rest of Corporate America's, carriers are under pressure to find partners. The result could be more cities dominated by a single airline, which typically leads to higher fares.
In health care, consolidation among managed-care companies is raising fears that health-care prices, already on the rise, may soon shoot up. The latest deal: Columbia/HCA Healthcare Corp., the largest managed-care company, announced on Jan. 15 a $1.3 billion acquisition of Value Health Inc., a large independent provider of managed behavioral care and pharmacy benefits. Such deals, plus even bigger ones such as the 1996 combination of Aetna Life & Casualty and U.S. Healthcare Inc., are shrinking the number of alternatives for employers seeking an HMO.
DRAWING THE LINE. One industry that is nowhere near the danger point is the patchwork-like utilities industry, despite over $40 billion worth of deals last year. There are still more than 100 investor-owned utilities as well as perhaps 2,000 municipals and electrical co-ops. In 10 years, there will be just 100 sizable companies specializing in various parts of the business, argues Edward J. Tirello Jr., an electric-utilities analyst at NatWest Securities Corp.
So far, the high-tech sector has mostly escaped the merger and acquisition boom. But even there, companies such as IBM, Microsoft, and Compaq have made a series of small acquisitions in recent months. And all three have built up big cash hoards that could be available for bigger deals.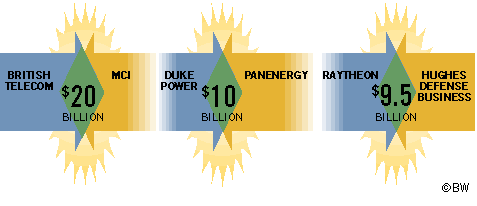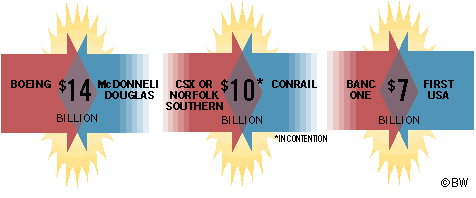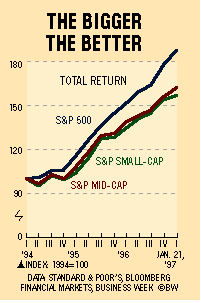 Will the Justice Dept. and the Federal Trade Commission stop mergers that step over the line? In the case of defense mergers, the antitrust agencies are deferring to the Defense Dept., which so far has encouraged consolidation. More generally, new merger guidelines expected soon from the FTC and Justice will give efficiency more weight in antitrust policy. "We will consider how cost savings might make firms more competitive," says Lawrence R. Fullerton, Deputy Assistant Attorney General for mergers. But regulators also vow to discourage mergers that reduce innovation.
The forces that have propelled consolidation are bound to continue. It's up to regulators to find the point where the benefits of merger mania turn into costs for the economy.
Before it's here, it's on the Bloomberg Terminal.
LEARN MORE