A Drug Giant's Allergic Reaction
At the root of Pharmacia & Upjohn's woes: A culture clash
by
It was a heady time for John L. Zabriskie. In early 1994, soon after learning he wouldn't get the top job at drugmaker Merck & Co., the 28-year Merck veteran jumped to the struggling Upjohn Co. as its new CEO. Eighteen months later, he unveiled an ambitious plan to merge the Kalamazoo (Mich.) company with Sweden's Pharmacia. Investors cheered, boosting the new Pharmacia & Upjohn Inc.'s market value more than 70%, to a June, 1996, peak of $22.6 billion. For Zabriskie, it was sweet revenge. But the prospect of closing in on his old employer was sweeter. "I can't wait until they're chasing me," he confided at the time. "I would love it."
He's in for a long wait. On Jan. 20, after a tense, two-day board meeting in P&U's Stockholm offices, P&U announced Zabriskie's resignation, sending the company's stock down almost 7%, to 38 1/8. Chairman Jan Ekberg, who had been CEO of Pharmacia before the merger, took Zabriskie's job. He says Zabriskie, 57, quit for "personal reasons." But one insider says Zabriskie was forced out by directors who lost confidence in his ability to run the $7.1 billion company. Zabriskie declined to comment.
Zabriskie's resignation is just the latest sign that the merger is in trouble. Cost-cutting is behind schedule, key executives have left, and integrating the two companies has proven tougher than expected. The result: unwelcome earnings surprises, lousy morale, management upheavals, and a stock that underperformed the Standard and Poor's drug industry average by 22% in 1996. Vows Ekberg: "I will focus on improving the financial performance of the company and rebuilding investor confidence."
Investors, who have been fed bad news for some time, would welcome that. The first signs of trouble came last August, when P&U warned that restructuring costs related to the deal would hit $800 million, nearly 50% higher than original estimates. Then, on Oct. 11, CFO Robert C. Salisbury warned analysts that third-quarter operating profits would be flat, rather than showing the double-digit gains most expected. Although he blamed currency problems and generic competition, the stock quickly sank 13%; two weeks later, when P&U hinted that yearend estimates should be cut as well, it lost another 5%. P&U is now expected to report 1996 earnings of $555 million, a 25% drop from 1995. Says a major European institutional investor who has avoided the stock: "It's a mess."
"NO PRISONERS." A culture clash between the two companies--exacerbated by Zabriskie's hard-edged, tightly centralized management style--is at the root of P&U's problems, say four high-level former executives, as well as several rival executives and consultants. A series of acquisitions over the years had left Pharmacia a loose patchwork of companies, while Upjohn had a more structured, paternalistic bent. To unite the two companies--which had been based in Stockholm, Sweden, and Kalamazoo, Mich.--Zabriskie put in place a centralized headquarters in suburban London and gave executives there much of the responsibility for the financial and operating performance of the local units.
Insiders say that Pharmacia executives didn't respond well to the change, or to Zabriskie, "a very tough character who takes no prisoners," in the words of Barrie G. James, a former Merck executive who now runs Pharma Strategy Consulting, a Basel-based drug consultancy. Having long held sole responsibility for their units, many managers were offended. "If you were used to running your own kingdom and suddenly became a prince, you wouldn't like that," admits Goran A. Ando, P&U's head of research.
Although the deal was called a merger of equals, many Pharmacia execs saw the change as favoring Upjohn and left. The tension was particularly acute in Sweden, where, on Dec. 11, P&U moved President Lars Ingelmark to London and temporarily replaced him with Ando, Zabriskie's right-hand man, who had grown increasingly unpopular with the Pharmacia troops. Other key executives Zabriskie hoped to keep also quit, including Lars Gatenbeck, director of the urology division, and Jonas Frick, vice-president in charge of central nervous system drugs. Ekberg concedes Zabriskie's style "could well be the reason some Pharmacia people left."
In the U.S., too, the internal strife had an impact. The merger "was like two different species meeting each other," says Magnus Lundberg, the ex-head of metabolic diseases at P&U. Lundberg quit Pharmacia in August, 1996, after 15 years to become president of Chiron Vaccines, a unit of Chiron Corp. in Emeryville, Calif. He says he constantly hears from job-hunting ex-colleagues.
Moreover, the leave-takings are clearly starting to hurt business. Case in point: The November, 1995, launch in the U.S. and Canada of P&U's No.1 product, the human growth hormone Genotropin. Despite the new approvals, estimated 1996 worldwide sales rose just .02%, to $395 million, and insiders say the U.S. launch fell more than 50% short of P&U's sales target. As many of the Pharmacia executives responsible for Genotropin fled, those remaining--primarily Upjohn managers--had to launch the drug with little product knowledge. Says Lundberg: "The baby was adopted by the wrong parent, and it couldn't grow." P&U attributes Genotropin's poor overall performance to price decreases in Japan.
LOOKING TO BULK UP. Ekberg appears to be moving quickly to calm his unhappy troops. Drawing a contrast between his own style and that of Zabriskie, Ekberg says he's "more the type of leader who wants to delegate." And in the wake of Zabriskie's resignation, the board moved quickly on Jan. 20 to install Pharmacia marketing executive Toni Weitzberg, 46, to the top post in Sweden, where he is highly regarded by Pharmacia loyalists. But tough changes remain. Last year, Zabriskie cut just $200 million in costs, less than half the planned $500 million.
Despite the problems with the merger, Ekberg is expected to look for another deal to bulk up the company. The goal: to gain a leading position in one of P&U's five core areas--oncology, neurology, anti-infectives, inflammation, and metabolic disorders. With a $1 billion war chest, strong cash flow, and scant debt, analysts say the company can afford to spend up to $5 billion. "They have a balance sheet that is almost too strong, so they should leverage that," says Nancy Crouse, portfolio manager at Delaware Management, which holds about 10.7 million P&U shares.
Yet so far, that, too, has proved elusive. Last May, Zabriskie tried to bolster the ophthalmology business by bidding an estimated $3 billion for Allergan Inc. in Irvine, Calif. Analysts believe Volvo, a big Pharmacia shareholder that was preparing to sell 46 million shares later that summer, blocked the deal. Volvo would not comment. Then, in November, industry insiders say P&U held talks with Schering-Plough Corp. Neither company will confirm the discussions. Talks with Allergan are now being rekindled, industry sources say.
Ekberg has another reason to do a deal. P&U's continued woes may leave the company open to a hostile takeover. Despite the recent spate of drug mergers, the $284 billion industry remains fragmented, and No.18 P&U is one of the cheapest drug stocks. Although its pipeline is weak, analysts think Xalatan, a glaucoma drug, and Detrusitol--an incontinence drug, which could top $500 million in sales--show promise, as does its over-the-counter business. Bankers think P&U's sales and marketing clout in Europe could interest another drugmaker. Says one ex-Pharmacia exec now at a rival: "We've talked about [P&U] as a company that might be vulnerable. If things don't get better fairly soon, I think they will get taken over." Still, experts say a deal would carry a price tag of at least $25 billion.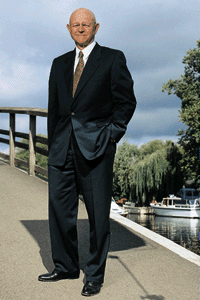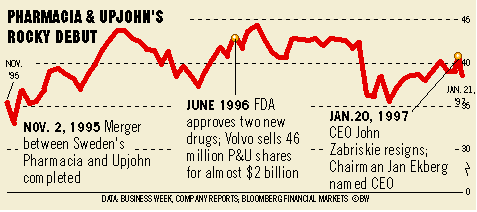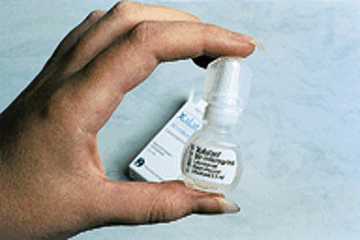 Just a few days before his ouster, Zabriskie sat overlooking the English hamlet of Windsor, site of the company's new headquarters. With the board meeting approaching, his tense demeanor was a far cry from the ebullience of the past. Now, Ekberg is equally under the gun, admitting P&U's performance "has not lived up to our expectations." To build confidence, he says he'll recruit a permanent CEO as soon as possible. Longer-term, management must boost morale and produce more hits. If it doesn't succeed, P&U may soon find itself on the wrong end of another drug megamerger.
Before it's here, it's on the Bloomberg Terminal.
LEARN MORE