What's Hotter Than Salsa? Latin Bonds
High yields and improved fundamentals are winning converts
Elisabeth Malkin
Thirty-five percent. That's the average return investors earned last year on Latin American bonds, about 10 times what U.S. Treasuries delivered. Shunned as high-risk by all but the most venturesome just a few years ago, Latin debt is now in such demand that issuers sold a record $50 billion in bonds on global markets in 1996 (chart). What's more, 1997 is off to a running start.
With Mexico's 1994 currency collapse all but forgotten, investors snapped up a $1 billion Mexican government bond issue in the first week of January. That, and other recent global issues in currencies from lira to yen, enabled Mexico to announce on Jan. 15 that it is paying off the remaining $3.5 billion owed to the U.S. and $1.5 billion to the International Monetary Fund from the 1995 bailout. Argentina plans $3 billion worth of offerings through March, on top of $2 billion sold in December. That will take care of more than half of the $8.5 billion the government needs to raise from bond issues for the year, says Economy Minister Roque Fernndez.
All told, Latin bond deals already in the pipeline for 1997 come to about $40 billion, says J.P. Morgan & Co. With more corporations and banks joining governments in the quest for cash, some market watchers think this year's total volume could exceed the 1996 record.
What's driving the market is a search for high yields as interest rates have fallen around the world. Emerging-market funds have been joined by investors who in the past gave Latin debt short shrift: pension funds, insurance companies, and high-yield investors who typically buy U.S. junk bonds. They are attracted by the tidy premiums Latin borrowers are paying, even though rates have been driven down by investors' increased liquidity and the perception of declining risk. Mexico's latest 10-year bond, for example, pays 3.35 percentage points over comparable U.S. Treasuries, 1.1 points less than the premium the Mexicans paid a year ago.
With risk premiums falling, the return to investors won't be as high as last year's, although investors are likely to earn a respectable 15% in interest and capital gains. But investors still find the narrower spreads over Treasuries attractive because Latin issuers are seen as increasingly creditworthy. By controlling inflation, cutting spending, and hewing to free-market policies, Latin "governments are doing an outstanding job," says Simon Nocera, chief investment officer for emerging markets fixed income at Chancellor LGT Asset Management in San Francisco. "I've never seen better fundamentals."
Another reason investors have warmed to Latin debt is that much of the borrowing is being used to pay off expensive short-term bonds and replace them with bonds at lower rates and longer maturities. Argentina's latest bond offering, at rates yet to be determined by underwriters, includes a 20-year tranche that is the first by Argentina in U.S. dollars at that maturity. Mexico issued 30- and 20-year bonds last year. Just after the peso crisis, such long maturities would have been unimaginable. "People have been proven right to go back and invest in those markets," says David C. Mulford, worldwide vice-chairman of Credit Suisse First Boston.
INDIGESTION? For a region with a history of debt woes, problems could yet surface. The Argentine government, for example, should be able to raise the $8.5 billion it needs for debt falling due, but the country may have to borrow double that amount to cover the fiscal and current-account deficits and private-sector debt. Kristin Lindow, lead analyst for Argentina at Moody's Investors Service in New York, worries that the country's appetite for external borrowing is growing and its debt load could increase. "If something interrupts the [market's] willingness to refinance," she asks, "then where are they going to go?"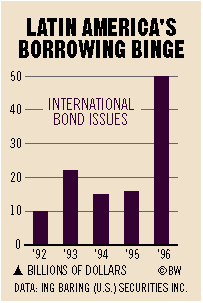 One potential jolt for Latin borrowers would be a steep hike in U.S. rates. And political jitters may be stirred by congressional elections in Mexico and Argentina and by the debate in Brazil over President Fernando Henrique
Cardoso's bid to change the constitution so he can run for reelection.
Even without such snags, the markets may have trouble absorbing all the new issues. "At some point, there's a digestion problem," says Ali Naqvi, head of emerging-market bonds at Citibank Global Asset Management in New York. But given the strong demand for Latin debt, it may be a while before investors and borrowers need to worry.
Before it's here, it's on the Bloomberg Terminal.
LEARN MORE