Ultrafem Vs. The Shorts
by
Ultrafem (UFEM) has had quite a run--way up and way down--since going public in February, 1996, at 17 a share. It's a favorite of the short-sellers, who have sold short 1 million of the 7 million shares outstanding. Ultrafem hit 36 in late May, only to slide to 20 five months later. By Jan. 14, it had dropped to 14.
The shorts feel victorious: They claim that Ultrafem's chief product, called INSTEAD Feminine Protective Cup--an alternative to pads and tampons that's already approved by the Food & Drug Administration and patented--won't sell well.
But the bulls believe they'll triumph. Their point: INSTEAD, which the company says women can wear safely for up to 12 hours, has made progress gaining retail shelf space in its Pacific Northwest test markets. Made of smooth nonabsorbent material, INSTEAD is a soft disposable cup inserted just below the cervix. It holds rather than absorbs menstrual fluid.
"We think the product will be successful and will produce revenues and profits much sooner than expected," says Michael Schonberg of Dreyfus Equity Growth Funds.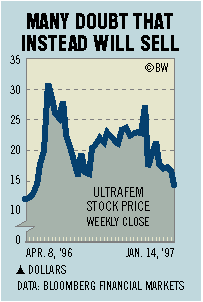 Test-market results have been so good, says one company insider, that several retailers have asked Ultrafem to roll out INSTEAD nationally sooner than was planned. Chains involved in the test market, according to Ultrafem, include Thrifty Payless, Safeway, Longs Drugstores, Walgreen, Albertson's, Fred Meyer, and Lucky Stores.
Carol Winslow, an analyst at Los Angeles securities firm Jefferies & Co., says INSTEAD is the biggest advance since the tampon was introduced in 1933. She expects the company to turn profitable in the year ending June 30, 2000, earning $1.55 a share.
Before it's here, it's on the Bloomberg Terminal.
LEARN MORE