U.S.: Inflation Is Still On The Mat But Don't Count It Out Just Yet
The biggest concern for 1997 will be a tight labor market
by
Inflation has been down for so long, a few analysts have pronounced it dead. The latest price indexes show inflation ended 1996 as tame as ever. But other data strongly suggest the seeds of future inflation are in the ground. They are dormant now, but just a little coaxing from a vibrant economy could cause them to sprout.
To be sure, price pressures have been almost nil. Last year, slower growth in benefits offset bigger pay gains, even in a tight labor market. The capital-spending boom continued, enabling manufacturers to add capacity and prevent production bottlenecks. Capacity constraints were also absent overseas because economic growth slowed, especially in the industrialized nations. The dollar's surge against other currencies helped to cut import prices. And the third-quarter pause in demand likely kept the economy below its "full potential"--the noninflationary level of output that uses all available labor and production facilities.
However, while the above trends worked together in 1996 to keep inflation low (chart), there is no guarantee that these ducks will stay in a row in 1997. If a few waddle off course, then by the second half inflation will be more of a worry for consumers, the financial markets, and policymakers.
THE KEY FACTOR in the inflation outlook will be economic growth. The yearend data on jobs, hours worked, retail sales, and inventories imply that the economy grew at an annual rate of more than 3% in the fourth quarter. By some measures, that means output is now at full potential. So if growth stays above the economy's noninflationary speed limit, generally thought to be about 2 1/4%, job markets will tighten further and labor costs will continue to grow faster.
Another red flag to watch for is capacity constraints. They could emerge, especially since the manufacturing sector is gaining momentum, and since business spending on equipment is set to slow a bit. Moreover, world growth is picking up, and the dollar's rate of appreciation during 1996 has tapered off. Result? Cheaper imports will no longer offset higher domestic prices.
For now, at least, inflation clearly looks more dead than alive. The consumer price index rose 0.3% in December, pushed up by a 1.6% jump in energy prices. But excluding energy and food, the core index edged up only 0.1%. In fact, core consumer inflation fell to 2.6% last year, a level not seen in more than two decades. Core wholesale inflation also declined last year, and further back in the production process, prices for intermediate and crude materials ended 1996 below their year-ago levels.
BUT THAT'S LOOKING BACKWARD. The question is: Will inflation stay down? The biggest concern for 1997 is a tight labor market. Even with December unemployment already down to 5.3%, payrolls are increasing at a pace that will send the jobless rate still lower.
U.S. companies added 262,000 workers to their payrolls in December. Monthly payroll gains averaged 194,000 during the second half of 1996, down only a bit from the 234,000 monthly pace of the first half. But based on the current trend in the labor force, job growth would have to slow to below 150,000 before labor-market tightness could even begin to ease.
As a result, wage growth already has picked up significantly, and it continues to accelerate. December hourly pay for production workers rose 0.5%, and for the quarter, earnings were up 3.4% from a year ago, the fastest annual pace in six years (chart).
In fact, wage growth is beginning to reach a pace that will offset the slower growth in benefits costs. As a result, the government's employment cost index, which measures both wages and benefits, will soon start to grow faster as well. In 1997, higher labor costs will mean that many companies must either raise prices or watch their profits get squeezed.
The strong performance of the job markets in December confirmed that the economy reaccelerated after its summer lull. The job gains were broad, covering everything from construction to manufacturing to services, and temporary-help agencies accounted for only a small portion of the service-sector gains. The workweek increased by 18 minutes, to 34.8 hours, matching the 1994 peak, which at the time was a six-year high. Overall hours worked for the quarter were consistent with economic growth in the 3% to 4% range.
MOREOVER, THE JOB DATA imply continued momentum going into 1997, especially in manufacturing. A jump in factory hours points to a strong gain in December industrial production. Factory output is starting to outpace the growth in new capacity for the first time in 1 1/2 years. That means capacity utilization rates are set to rise, further reducing the amount of production slack in the factory sector.
Also, the jumps in payrolls, hourly pay, and the workweek mean that December personal income posted another healthy advance--more fuel for consumer spending. Retail sales ended the year with a solid 0.6% increase, and November buying was not as weak as first reported. As a result, real consumer spending appears to have risen at an annual rate of about 3% last quarter, a sharp rebound from the third-quarter showing (chart). The bounceback will propel the gains in factory output into the first quarter.
Stronger buying at yearend left inventories extremely lean relative to sales. Stockpiles at manufacturers, wholesalers, and retailers edged up 0.1% in November, as sales rose 0.6%, leaving the ratio of inventories to sales a record low 1.39. Retail stockpiles fell, as auto dealers thinned out their car lots.
But it's not just domestic demand that will set the inflation trend. Events overseas also bear watching. With Europe and Latin America set to pick up, growth in the industrialized nations will be more in synch. So capacity usage and demand for raw materials will be higher worldwide. Faster industrial output globally could bid up commodity prices.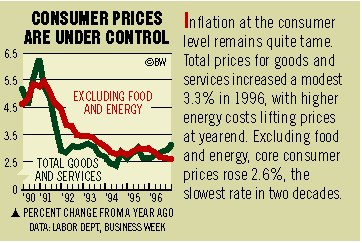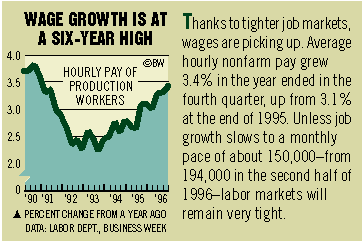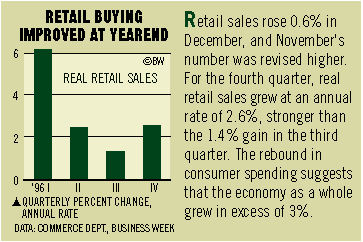 In addition, the 8% rise in the dollar against a trade-weighted basket of currencies has helped to cut the prices of nonoil imports by a large 2.2% since April, 1995. And with nonoil imports accounting for a record share of U.S. goods purchases, lower import prices have been a powerful force in holding down total goods inflation. In 1997, though, any appreciation in the dollar will be small, and import prices may no longer fall.
Even so, it is clear that right now all is quiet on the inflation front. But to detect future pressures, you can bet that the Federal Reserve and other price-watchers will be following closely the trends in economic growth, wages, and the dollar. The Fed in particular knows that, like the price of liberty, the cost of low inflation is vigilance.
Before it's here, it's on the Bloomberg Terminal.
LEARN MORE