Is The Market Just Plain Nuts?
No. Higher rates are being trumped by strong earnings
by
Month after month, the stock market within weeks. Traditional valuation yardsticks prove useless. And in recent weeks, stocks smashed through a barrier that conventional wisdom says should have stopped them dead in their tracks: higher interest rates. The yield on the 30-year Treasury bond is more than 40 basis points higher than it was in early December. Rather than swooning in sympathy with bond prices, however, the Dow Jones industrial average has vaulted 240 points since Dec. 2. And in the first 10 trading days in January, it broke six new records.
Normally, the fear that inflationary pressures would spur the Federal Reserve to hike interest rates spills over from the bond market into stocks. After all, higher rates could cut into corporate profits through higher borrowing costs and weaker consumer spending. But the market seems to be "absorbing a potential rate hike--or even more than one," says Laszlo Birinyi Jr., of Birinyi Associates Inc., in Greenwich, Conn. Birinyi expects to see continued economic strength and a broadening of the rally to include more strength in cyclical stocks. He "wouldn't be surprised to see the Dow near 8000" at yearend.
LESS FEAR. Federal Reserve Chairman Alan Greenspan may question whether "irrational exuberance" is at work, but there are a host of rational explanations for the market's advance. The prospect of stronger earnings seems to be overshadowing the fears associated with higher interest rates. "If the Fed is pushing rates higher and you're going to see a recession, then you sell your stocks," says Bluford Putnam, chief strategist for Bankers Trust Investment Management. "But if the market is pushing interest rates higher because the economy is doing well, then you raise your earnings forecast and buy stocks." That approach worked in the first five months of 1996, when bond yields rose from 5.95% to more than 7%, yet the Dow gained more than 10%. Notes Jeffrey Applegate, chief investment strategist at Lehman Brothers Inc.: "The stock market can take the same data about decent job growth and, even though the bond market is selling off, can say: `If job growth is O.K., then demand is O.K., so corporate profits are O.K., and we can ignore the bond market for a while."'
Fourth-quarter earnings are indeed off to a strong start. "We're seeing a trend that, in general, earnings surprises are positive," says Stanley Levine, director of quantitative research at First Call Corp. Fourth-quarter earnings for the 43 companies reporting as of Jan. 13 are coming in 2.3% higher than expected. Of those companies, 16 reported earnings significantly different from the expectation, and of these 16, 12 were positive surprises. On Jan. 14, Intel Corp. provided another stunner, reporting earnings more than double those for the same period a year ago--and way above expectations.
With inflation low, the quality of earnings remains strong. Excluding food and energy costs, the consumer price index rose just 0.1% in December. "People are saying, `This is great. We've got growth that's not generating inflation,"' says Elizabeth J. Mackay, investment strategist at Bear, Stearns & Co.
Inflows into equity mutual funds slowed in December, but are back with a vengeance. Fund flows are usually strong in January as bonus money is invested, quarterly pension contributions are made, and new retirement plans are started. At Charles Schwab & Co., more than $653 million had cascaded into stock funds by Jan. 10, compared to $60 million for all of December. If that pace continues, the flows will top the $1.8 billion that poured into Schwab last January. "There was a lot of pent-up demand," says Tracey Gordon, a spokesperson. "On January 1, it was as if the starting gun went off, and investors said, `We're back."'
Critics warn that should the market correct, small investors could bolt and pull their support. But small investors have routinely used market dips as buying opportunities. Ralph J. Acampora, Prudential Securities Inc.'s technical analyst, sees baby boomers fueling the market with regular retirement contributions for the next decade. Acampora also envisions a Dow of 8000 by yearend.
The market may also be getting a boost from foreign investors. International investors have been moving into U.S. stocks since the third quarter of 1996, and "interaction with European clients shows that [the buying] is continuing," says Gail M. Dudack, chief equity strategist at UBS Securities Inc.
FICKLE FRIENDS. This new source of funds may prove volatile. "It's a whole new and unexpected development," says Dudack. The risk, she says, is that such buyers are currency players rather than valuation players. "As long as the dollar is strong and the market holds up, they'll keep their money here, but they can be very fickle if the currency goes against them," she says.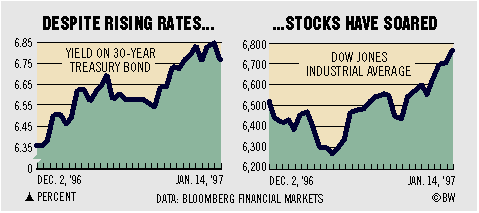 Dudack and other market mavens are concerned that the market is getting ahead of itself. "Equity valuation hasn't looked that strong since October, and it's gone up," she says. "This is a liquidity-driven market, pure and simple." Says Douglas R. Cliggott, J.P. Morgan Securities Inc.'s equity strategist: "In the last couple of days we've been talking about a fully valued market. We've moved ahead of what current earnings expectations would justify."
The stock market has a long history of outwitting those who follow it for a living, however. At yearend 1995, the consensus of more than 40 strategists surveyed by BUSINESS WEEK was for a 5% rise in the Dow in 1996. It jumped 24%. When surveyed about prospects for 1997, expectations were again for a 5% gain. As of Jan. 14, the Dow was up 4.3%. No doubt 1997 will be a volatile year. But with inflation low and the economy strong, the bull is on track to confound the gurus once again.
Before it's here, it's on the Bloomberg Terminal.
LEARN MORE