Harrah's Goes For Broke
It keeps expanding despite a round of setbacks
David Greising
It was less than five years ago that Harrah's Entertainment Inc.--then part of Promus Cos.--embarked on a bold expansion plan. At a dramatic meeting, executives won board approval to pursue the tantalizing promises of riverboat gaming and the management of Indian casinos. That summer, Harrah's also launched a successful $400 million bid to build what was to be the world's largest casino, in New Orleans.
Today, 18 months after Promus split into separate hotel and gaming concerns, Harrah's big plans have crapped out. The Memphis-based company's riverboats are facing intense competition and sinking profits, and the grandiose New Orleans project is bankrupt. To make matters worse, no new states have approved gaming since 1994, bringing the industry boomlet to a halt.
RIVERBOAT GAMBLER. Investors have taken their money off the table, causing Harrah's shares to languish at around 19. That's less than half their June, 1996, high of nearly 39. "Riverboats aren't going anywhere, and New Orleans is bankrupt," says one institutional holder who recently sold part of his stake. "We're running out of reasons to stick around." Earnings in 1996 are expected to fall 4%, to $140 million, on $1.6 billion in revenue.
Such problems would make many executives retreat. Not so Harrah's Chief Executive Philip G. Satre, an attorney and onetime Rose Bowl linebacker. Although overbuilding has hurt the entire industry, Satre is forging ahead, plunking $985 million into current casino and riverboat expansions. "I think we can create our own destiny," says Satre.
So far, Harrah's has seemed destined mostly for trouble. Consider the company's eight riverboats, which once turned in eye-popping results. The Joliet (Ill.) boat, for example, returned more than 100% on invested capital for two years running after it opened in 1993.
But with competition heating up, the boats now face rough going. In Joliet, cash flow is expected to fall nearly 30% this year with the launch of competing riverboats in northern Indiana. And in the overbuilt Tunica (Miss.) market, where Harrah's opened a 200-room hotel near one of its two riverboats in early 1996, its operations are losing money and won't turn a profit until 1998. That's partly because of rival Grand Casino's new $470 million casino, located squarely between Harrah's and Memphis--home to most of Tunica's gamblers. "The good money has been made," says analyst Richard Byrne of Merrill Lynch & Co.
Still, Satre dismisses any worries, noting that the boats surpassed his 1996 cash-flow goal of $200 million "so fast it made my head spin." And by 1998, Harrah's expects a 25% return on its $675 million total riverboat investment. But that's still far below Harrah's--and Wall Street's--original hopes. In an effort to beat back the competition, the company is spending lavishly to create hotel space near riverboats and expand the size of the boats themselves.
Satre has reason to hope the boats keep chugging: They're key to his broader marketing strategy. The plan centers on the "Gold Card," a frequent-flier-style program that offers gamblers hotel and gaming incentives to visit all of Harrah's properties. With 21% of Harrah's customers on the plan, more than twice that of any rival, it's one of the industry's most successful programs.
CASH POOR. Gold Card members won't stop in New Orleans anytime soon, though. In December, 1995, Harrah's wrote off its initial $76 million investment in the land-based casino after it overestimated the demand for gambling and the state moved to renegotiate its take. Harrah's temporary casino, meant to lure gamblers while the permanent one was under construction, failed. And Satre still must sign a new contract with the state and win court approval of the casino's financial restructuring. The total cost of the scaled-down project will hit $900 million, more than twice the original budget. Some say the debacle could hurt Harrah's bids to build casinos in Detroit and other cities.
Such mishaps have taken a toll on the company's balance sheet. Although debt stands at a comfortable 53% of capital, Harrah's $330 million in cash is only about half its 1995 level. To placate frustrated investors, Harrah's is using some of its remaining cash to repurchase up to $200 million of its stock.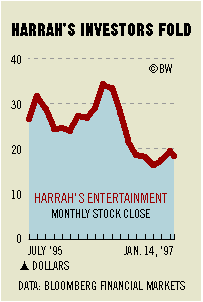 If Wall Street is to ante up with Harrah's again, the company must remain a big draw for middle-market gamblers in Las Vegas and Atlantic City. Satre thinks he can keep his gamblers happy by spending $200 million on a 35-story hotel and more gaming space in Vegas, and $405 million to expand the Atlantic City property. He's also shopping for another Vegas property in the $600 million price range. But Harrah's won't be building artificial volcanoes or pirate ships. Satre says he wants to build less flashy, more hospitable casinos for core customers. "We want to concentrate on the Harrah's brand," Satre says.
Satre does have one ace up his sleeve: Harrah's overseas efforts. The first project, a casino and hotel in New Zealand, has already earned back Harrah's $78 million investment in 1995, and Satre is planning a casino at the old Clark Air Force Base in the Philippines. Still, Harrah's woes mean the odds are against it hitting the jackpot anytime soon.
Before it's here, it's on the Bloomberg Terminal.
LEARN MORE