business
Even Midas Might Not Touch This Gold Market
A central-bank sell-off could depress the gold market further
Greg Burns
By nature, goldbugs are true believers. But the past year has been enough to rattle the faith of even the most committed zealots. From $418 an ounce last February on the New York futures market, gold plummeted relentlessly to a three-year low of $354.70 on Jan. 14. Moans Jean-Marie Eveillard, manager of SoGen Gold Fund: "If gold doesn't move up, even I'll have to be discouraged."
What's behind the debacle? Mainly, selling by European central banks during the year and the threat of future sales. One likely motive for selling is the banks' desire to improve returns by shifting more assets into income-producing financial investments. The Dutch government was a key catalyst last year, selling 300 tons, one-third of its reserves. Piggybacking on the Dutch divestitures, short-selling by commodity-fund managers added force to bullion's decline.
"MYTH." At the same time, bearish gold traders are betting that central bankers will cash in thousands of tons of gold to help meet the debt and budget-deficit criteria required by Europe's planned move to a single currency in 1999. If those sales occur or accelerate, which some bears see as likely, they could sink the market for years to come. Alarmists warn that even the gold-loving Swiss are priming the pump for sales, a situation akin to McDonald's getting out of the hamburger business. "We're blowing away the myth that central banks will sit on gold," declares analyst Andy Smith at Union Bank of Switzerland, whose long-term forecasts peg gold below $300.
As if that weren't enough, anemic investment demand has contributed to the malaise: Japanese investors whose buying propped up the market in 1995 bought 38% less of the metal in 1996, partly because a stronger yen made dollar-denominated gold more expensive. Inflation, always gold's best friend, has been quiescent. And booming stock markets are attracting such a huge share of investors' funds across the globe that gold seems beside the point. "Who needs an alternative investment if financial assets keep going up?" complains SoGen's Eveillard.
Many seers, though, say gold prices are nearing bottom and predict the market will return to a relatively dull, narrow trading range. They say that central banks will be cautious about unloading an asset earmarked as insurance against disaster, making huge sales unlikely. Indeed, the market may be reacting to a threat that will never materialize, says J. Clarence Morrison, analyst at Prudential Securities Inc. "We've seen nothing cataclysmic," he notes.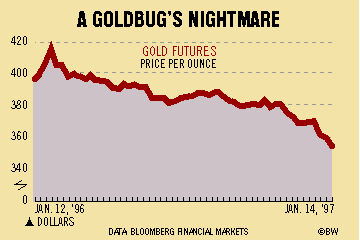 Moreover, fundamentals look supportive: Mine production still lags well behind jewelry and fabrication demand. Even if currency unification inspires modest central-bank selling, that will do little more than keep the market from rallying too sharply, rather than force it to historic lows. To be sure, goldbugs betting on a surge in the metal could have a long wait. But the bears' worries have run their course for now, says Vahid Fathi, metals analyst at Everen Securities Inc.: "Most of the correction is behind us."
Investors who want to stay in gold should look beyond bullion and explore midsize stocks with strong production, reserves, and cash flows, such as Colorado's Getchell Gold Corp. and Australia's Plutonic Resources Ltd., says gold-fund manager Victor Flores at U.S. Global Investors Inc. "Look for value," he urges. And don't expect too much action. For battered goldbugs, a bit of dullness could be a welcome relief.
Before it's here, it's on the Bloomberg Terminal.
LEARN MORE