Do Bankers Rate Painewebber A Buy?
By
The big guessing game among brokers: Which bank will gobble up which brokerage house--now that the Federal Reserve has made it easier for banks to do so? Several investment managers are accumulating shares of PaineWebber Group (PWJ), one of the nation's largest full-service brokerages.
One New York investment manager thinks PaineWebber is being courted by BankAmerica, the No. 3 U.S. commercial bank, with $243 billion in assets and 2,000 branches, mostly on the West Coast.
PaineWebber's appeal? It controls assets of $250 billion through its 3 million clients. It's "a very logical acquisition for a bank that wants a vast retail-broker operation," says the manager, who's building up a 4% stake.
PaineWebber Chairman Donald Marron has had "extensive and detailed" talks with BankAmerica Chairman David Coulter about a merger or an outright sale, says this pro. He adds that two other institutions are eyeing PaineWebber: One of them has had talks with the brokerage's top brass.
One partner in a New York investment bank says he has also heard about a BankAmerica-PaineWebber "dialogue," which he believes occurred on several occasions. He notes that for PaineWebber to thrive in the deregulated era, it needs deeper pockets and a bigger presence in the broad financial-services business. BankAmerica, on the other hand, needs the kind of retail operation that PaineWebber has built. Spokesmen for PaineWebber and BankAmerica say they don't comment on rumors.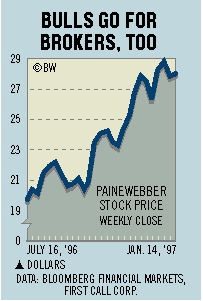 In a buyout, one analyst puts the value of PaineWebber shares, now at 28, at 55--about three times the company's 1997 estimated book value of $18 a share. That ratio is higher than usual for brokerages. But in PaineWebber's case, three times book may be deserved because of PaineWebber's emphasis on the fast-growing retail end of the business, says the banker.
Analysts expect a swift consolidation of banks and brokerages after Mar. 6, when the Fed's new rule kicks in--raising from 10% to 25% the share of gross revenues that a bank may earn from underwriting securities.