Britain: Hot Growth Could Boil Over
by
The "British model" faces a stern test in 1997. A decade of restructuring, including privatizations, reduced social costs, deregulated labor markets, and a domestic policy focus was intended to yield a less inflation-prone economy. Now, with the economy close to overheating and with a new government likely after elections that must take place by May, will inflation stay down?
Forecasters generally expect the economy to grow 3.6% this year, after a 2.3% pace in 1996. Growth that fast is generally believed to be more than a percentage point greater than the economy can manage without generating more inflation. That's because after five years of expansion, little slack remains in the labor markets and production capacity.
Price pressures will build in 1997, though the price indexes may well be restrained by 1996's impressive strength in sterling. Producer prices of goods at the factory gate stayed tame through yearend, but that didn't prevent underlying retail inflation, which excludes mortgage costs, from climbing to 3.3% in November--well above the government's target range of 1% to 2.5%. Price pressures in services, which are insulated from currency effects, are on the rise.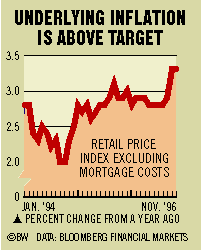 Unlike on the Continent, Britain's growth will be fueled by domestic demand, not foreign trade, led by gains in housing and business investment and an expected 4% surge in consumer spending. Households will benefit from past rate cuts, cash windfalls as building societies move to bank status, rising home values, and stronger job markets. December's jobless rate fell to a six-year low of 6.7%.
Barring any wrongheaded new policies, analysts believe that inflation is manageable, but that containing it will require rate hikes that would take base rates from 6% now to the 7% to 7.5% range. A probable Labor government seems unlikely to alter the broad policy stance. Chances are good that Labor will adopt the 2.5% inflation target set by the Tories. The problem: Inflation control in 1997 will come at the expense of economic growth in 1998.
Before it's here, it's on the Bloomberg Terminal.
LEARN MORE