A Sleepy Island Awaits A Gusher...And Japan Gets In On The Action
Vijai Maheshwari
Yuzhno-Sakhalinsk, the provincial capital of Sakhalin Island, was once described by Anton Chekhov as the "most depressing place on earth." This former prison colony nudged against Japan is pitch-dark at night. Coal shortages have led to severe power cuts, and most workers in the antiquated coal and timber industries haven't been paid in months. Yet the impoverished town of 200,000 has more restaurants and five-star hotels than many larger cities in Russia's sprawling Far East. Thrice a week, Boeing 757s arrive direct from Moscow, 10,000 kilometers and eight time zones away, and there are frequent flights to Japan.
Ever since vast offshore oil and gas reserves were discovered by the Japanese in the mid-1970s, the locals have been praying for a gusher of money. Now, it might just happen. Sakhalin One, a $15 billion consortium led by U.S. oil giant Exxon Corp., made history by completing exploratory drilling this past summer. "This island is going to be unrecognizable in 10 years," predicts Deputy Governor Igor Malachov.
FOOTHOLD. While foreign oil companies chasing other Russian projects have seen their hopes dashed by government hostility and vacillating partners, Exxon's is the first Western-led consortium to commence operations under a production-sharing agreement. Sakhalin Two, another consortium comprising Mitsui and Mitsubishi of Japan and McDermott International and Marathon Oil of the U.S., inaugurated the $500 million appraisal phase of its project last June.
At stake are more than 2.5 billion barrels of oil and billions of cubic meters of gas. The two giant projects are a crucial Eastern foothold for Western companies in the former Soviet Union. And with the proposed construction of an undersea pipeline from south Sakhalin to Hokkaido, the gusher could fuel energy-starved Japan.
But Sakhalin itself may have the most to gain. Undersea gas and oil could power an island hit hard by coal strikes and a sharp drop in onshore petroleum production. Its antiquated fishery and timber industries could receive a boost, too. The oil contracts provide for a Sakhalin Development Fund, charged with the modernization of local industry, that will receive $20 million annually from each of the consortiums over the next five years. Vastly more money will pour in from Russia's share of profits.
Local and foreign businesspeople are lining up for their share of the lucre. A Japanese trading company built the massive, five-star Santa Hotel at a cost of $45 million three years ago to cater to the oil traffic. Sakhalin entrepreneurs are pressing the government to authorize and help finance an international airport. And some Western oilmen plan to ride the boom. "I'm going to franchise a McDonald's and Pizza Hut here," says Mike Buchanan, Sakhalin consultant for Dallas-based Petro Sakh oil company.
But Sakhalin has its skeptics. "Money disappears in the government's hands like water in sand," says the editor of a local daily. And the consortiums insist that unless the Duma amends Russia's profit-sharing law, the projects might yet be scuttled.
Japan does not officially recognize South Sakhalin, which was grabbed by the Soviets, along with the disputed Kuril Islands in the north, after Japan's surrender in World War II. But while the Japanese have shied away from substantial investments in Russia until resolution of the Kurils question, the promise of cheap oil in their backyard has opened their wallets. Blue-chip companies such as Mitsui and Mitsubishi have pledged billions toward the exploitation of Sakhalin's offshore shelf.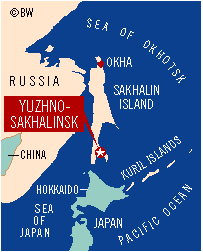 Japanese presence is visible everywhere in Sakhalin. Itochu, Mitsui, and other giants have set up offices, and a Japanese Cultural Center opened last summer. More than 100 joint ventures in coal, timber, and fishing have been inked since the island, once a closed-off military zone, opened its doors to foreign investors in 1992. Yuzhno-Sakhalinsk's streets are clogged with secondhand Toyotas and Hondas. Japan is even planning to open a representative office of the Khabarovsk consulate soon.
But all this rests on black gold. "If the oil companies weren't here, none of us would be," says Ryoichi Nozaki, head of Itochu. "Everything depends on what happens with the shelf." Most Sakhalin natives, it seems, would concur.
Before it's here, it's on the Bloomberg Terminal.
LEARN MORE