business
A Clunker Rises From History's Scrap Heap
David Woodruff
After the Iron Curtain melted away in 1989, east Germans quickly cast off clunky, state-made belongings. The lowly Trabant, a boxy ugly duckling of a car, was often first to go. Ossis, as easterners are known, sold the cars for as little as $35, recklessly ignoring their original investment of about six months' wages--not to mention the agonizing 14-year wait for delivery. A press photograph of a Trabi, stripped of tires and abandoned atop a trash dumpster, flashed around the world, a stark symbol of communism's bankruptcy.
Eight years later, however, the Trabi is back. The plastic-bodied putt-putt is quickly becoming a cult car on a par with the Volks-wagen Beetle, even though many drivers think it's junk on wheels. The Trabi shares the Beetle's simplicity, but isn't as much fun to drive. And its pollution-spewing engine is about as powerful as that of a dirt bike.
PRETTY IN PURPLE. Nonetheless, Germans now snap up Trabis for $700 a pop, then trick them out with whatever comes to mind--glitzy paint, flashy wheels, seismic stereo systems. Owners have converted their old beaters into everything from limousines to cement mixers. The car evokes a sense of playful youthfulness, and its popularity extends as far away as Oklahoma.
The Trabi lover is as fanatical as any Porsche owner. I met Michael Weiss, a 25-year-old VW factory worker, at a Trabi swap meet in Leipzig. President of the 26-member Trabi Club in Zwickau, the German factory town that once produced the cars, Weiss owns 14. He was displaying an army-issue Kubelwagen, a jeep-like Trabi on which he had spent $13,000. The paint job alone--bright purple with lime--set him back $5,500.
Weiss drives a Trabi for everyday use even though he's entitled to a discount on a new VW. "Anybody can have one of those," he snorts. Last summer, he organized a Trabi trek in the U.S. Thirteen couples paid $8,200 each to ship their cars over and drive Route 66 from Chicago to Los Angeles.
Trabi fever is contagious. More than 80 clubs have sprung up around Germany in the past several years. Enthusiasts spend their summer weekends driving to a series of Trabi shows to mix car talk with beer and bratwurst. The annual gathering in Zwickau is the largest, attracting 30,000 true believers. Organizer Edgar Haschke, editor of the 10,000-circulation quarterly Super Trabi, says he will limit exhibitors in 1997 after 1,300 owners entered cars in this year's show.
At the Leipzig show, Haschke proudly displayed the 1961 P50 sedan--with original equipment--that he drove up from Zwickau. Under rainy skies, he and hundreds of other Trabi fans converged on a cavernous, communist-era agricultural exhibition hall on the outskirts of town. Rock music blaring from a disk jockey's sound system included several Trabi-inspired songs, such as "Trabi Drivers Blues" ("Now I'm singing the Trabi blues, I'm singing the Trabi blues").
SALAD DAYS? Why the outburst of love for these rusting relics? For starters, of course, they're cheap. For $700, a German youth can afford one as a first car. Also, Trabis are so simple that just about anyone can handle repairs. The design changed little in 30 years, so even the last Trabants, circa 1991, have no sophisticated electronics, power steering, or power brakes to worry about.
Then too, Trabis stir deep-seated emotions, awakening in some east Germans a longing for life before the wall came tumbling down. Freedoms were few, but jobs were plentiful. Now, every fourth east German is on the dole. "It's a small, melancholy look back at the good things about the past," says Karsten R. Luckemeyer, a 33-year-old musician who was leaning on the bright-yellow Trabi he has transformed into a convertible.
As with any fad, this one has generated its own mini-economy. For casual participants like myself, there were numerous stands offering a wide selection of Trabi paraphernalia. They sold T-shirts bearing the car's logo, as well as hats, hand-painted silk neckties, model cars, and even Trabi Deluxe beer. I settled on a T-shirt with a 1960s advertising picture of a Trabant and the caption: "Trabant--a small car with a big future." A bargain at $16.
Serious shoppers could choose among everything from spoilers and stereos to complete, customized cars. Dirk Bohn, a dark-haired 23-year-old from Berlin, stood hopefully beside his hot-pink convertible Trabi with a plastic banana dangling from the rearview mirror. Asking price: $4,600. On the other side of the hall, I found Ulf Teich, a 22-year-old electrician and mechanic from outside Dresden, who offered customizing services. To show his handiwork, he displayed a baby-blue two-door sedan with aluminum wheels and electric windows. In place of the backseat was a seven-speaker, 800-watt sound system.
LADA FUN. East Germany's communist leaders had something much more sober in mind when they hatched the Trabant in the 1950s. It was to be a mainstream family car, big enough for two adults and two kids. The first one rolled off the line in 1957, and more than 3 million followed during the next 34 years. Perched high off the road on skinny wheels, the Trabi was powered by a two-cylinder, two-cycle, 26-hp engine of prewar design. It made a funny, high-pitched sound when accelerating, like a big chain saw revving underwater. Top speed: about 69 mph.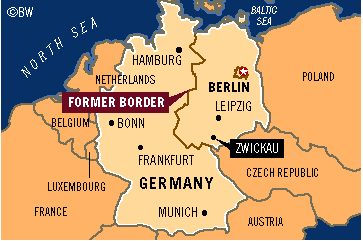 Of course, some of today's owners gleefully hop them up. A recent issue of Super Trabi featured a police picture of a Trabi nabbed going 94 mph in a 60-mph zone. Since 1993, a series of races in Germany, Poland, and Luxembourg has been held for the Trabant-Lada Cup. (Lada is a Russian-built econobox of Fiat heritage.) The sport is cheap fun: Race-prepping the cars costs as little as $6,500, and operating costs for one season run $13,000.
Seven years ago, hardly anyone imagined that the Trabi would soon turn into a cult object, least of all those who dumped them for $35. But then, few expected the Berlin Wall to fall, either.
Before it's here, it's on the Bloomberg Terminal.
LEARN MORE