business
Japan: Tough Medicine Is Showing Side Effects
By
The recovery continues to struggle in Japan. It appears the economy grew in the fourth quarter, but it will face stiff fiscal drag in the spring.
Industry led growth last quarter, lifted almost entirely by exports. Output fell 1.9% in November, but that followed two huge monthly gains. In the first two months of the fourth quarter, output grew at a 13% annual rate from the third quarter, continuing an uptrend begun last spring (chart).
Trade has been the source of manufacturing's--and the economy's--strength. Exports rose 8.5% in October and an additional 4.7% in November. The trade surplus in November was up 0.2% from its year-ago level, the first such gain in two years. Exports are growing because of the drop in the yen, especially its 28% plunge against the dollar since April, 1995. Recently, Japanese officials have said a weak yen is undesirable, but the cheaper yen will make Japanese goods more competitive in 1997.
The big concern for growth is weak domestic demand, especially from consumers. Private outlays fell in the second and third quarters. And household spending began the fourth quarter with an October drop of 1.5% from a year ago.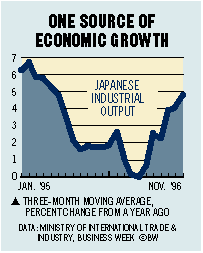 One bit of good news for consumers has been the small improvement in the labor markets. The jobless rate fell to 3.3% in November, from 3.4% in October. And the ratio of jobs to applicants has been rising for a year. Still, consumer confidence remains weak, suggesting small spending gains ahead.
Demand will also be hurt by cuts in government spending that reduced 1996 economic growth. Fiscal drag will be more severe in the spring, when the national sales tax will rise to 5%, from 3%, and some income-tax breaks end.
Some fiscal restraint is warranted because, after years of recession-fighting stimulus, Japan's deficit has ballooned, hitting 4.4% of the '96 economy. Prime Minister Ryutaro Hashimoto has made deficit-cutting a key goal. The problem is that hitting that target pretty much assures Japan's economy will limp along this year.
Before it's here, it's on the Bloomberg Terminal.
LEARN MORE