Why '97 May Be Nasty For The Nikkei
Slow growth, a tight budget, and deregulation are making investors nervous
by
Last year began in Japan with hopes that economic recovery would bring the country's six-year-long stock-market blowout to an end. Instead, 1996 ended bringing investors nothing but bad fortune as the Nikkei stock average plummeted 8% in December (chart), wiping out the modest gains scored in previous months. Worse yet, expectations of even more losses in '97 hung heavily over dispirited traders as they headed to hot springs and ski resorts for the extended New Year holiday.
Investors have good reason to be edgy. Faced with mounting government deficits, Prime Minister Ryutaro Hashimoto's Cabinet approved a tougher-than-expected budget on Dec. 25. It calls for flat real spending, will raise the national sales tax from 3% to 5%, and repeals an income tax rebate enacted in 1995. The measures are expected to shave $60 billion, or about 1%, from Japan's output in 1997--bad news for an economy that's already on the verge of recession. Fiscal tightening, sluggish industrial production, and pallid consumer spending should keep economic growth down to 1% in 1997, Nomura Research Institute estimates. Earnings growth is expected to slow to 5% in '97, vs. 15% in 1996.
HIGH STAKES. Hashimoto's tough fiscal policy certainly means an end to headline-grabbing spending packages similar to the six programs that have pumped $560 billion into Japan's comatose economy since 1992. But more than the prospect of continued economic weakness is souring Japanese investors this winter. What's really jolting them is the prospect that Hashimoto's high-stakes crusade to deregulate major sectors of the economy may turn out to be more than a clever public relations ploy after all. The Dec. 15 deal between Washington and Tokyo opening the protected insurance market to U.S. and other foreign competitors more widely than anticipated is now being seen as a harbinger of similar treatment for other coddled industries, including finance, transportation, construction, and retailing.
Indeed, even as shares of many multinationals were more than holding their own, it was a broad sell-off of companies in protected domestic industries that triggered December's market rout.
The first to be hit were small brokerages and banks expected to fall victim to the "Big Bang" package Hashimoto announced in November to overhaul Tokyo's financial markets. Next came insurance shares, following Japan's surprise concession to open up its auto and commercial fire insurance markets. Then came other domestic sectors that now look vulnerable to more efficient foreign rivals.
One of the biggest losers, in fact, was Sato Kogyo Co., a once hot construction company specializing in high-tech tunneling jobs, which has seen its shares sink to 15% of their highs in the boom year of 1989. At 400 yen ($3.50) per share, Sato Kogyo is trading 25% under previous lows set in the 1995 market debacle caused by a spiraling yen. "A lot of Japanese companies cannot compete on a world scale," observes Paul J. Fraker, a Japan specialist at Brown Brothers Harriman & Co. in New York. "Many of them are going to go bust or get merged."
He and other pros now see the Tokyo market splitting into two camps: a select group of globally competitive multinationals and a legion of domestically focused players struggling to survive. For example, among companies hitting new highs in Tokyo during the December depression were Denso Corp., a leading maker of automotive electronic components, and ORIX Corp., a savvy leasing firm expected to benefit from financial deregulation. Such world-class players as Toyota Motor, Honda, TDK, and Sony have also withstood the Nikkei's fall. This polarization leads Fraker to conclude that Tokyo may now be in for what Wall Street went through from 1966 to 1982--a long stretch where the broad market averages go nowhere but selected companies outperform. "It's becoming more a market of individual stocks than a stock market," agrees Ian Burden, who runs HSBC Asset Management's Asian portfolios.
One wild card in the market outlook is whether overseas investors will come to the rescue again. In all three major rallies since 1991, "foreign money bought the market in a big way," notes economist Mineko Sasaki-Smith of CS First Boston (Japan) Ltd. Each time, foreigners moved into Japan expecting emergency fiscal spending and Bank of Japan interest-rate cuts to bring a full-fledged recovery. But the economy never really took off.
SAGGING YEN. Now, with the government cutting spending and interest rates already at historic lows, it probably will take a lot of persuasion to woo the foreigners back a fourth time. Adding to their caution is the depreciating yen, now at a 45-month low of 116 to the dollar. A further weakening would leave foreign investors sitting on currency losses. If foreigners head for the exits in '97, some analysts see the Nikkei falling below 18,000 for the first time since October, 1995. With much of Japan's corporate wealth tethered to share prices, that would dampen economic growth even further.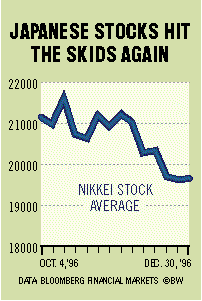 To be sure, not all the news is gloomy. Banks have made big strides in writing off $260 billion in bad real estate loans. And though Hashimoto's campaign to open tightly regulated industries is roiling the markets, the fact that credible reforms are being talked about at all is a long-term plus. But before deregulation spreads its benefits, there is going to be short-term pain for the economy and investors alike. Explains Sasaki-Smith: "The budget isn't investor-friendly, earnings aren't good, and the economy is decelerating." Hardly bull market talk--even if 1997 is the Year of the Cow.
Before it's here, it's on the Bloomberg Terminal.
LEARN MORE