All Signs At Tci Say `For Sale'
John Malone seems to be gearing up for some very big deals
by
It was hard to figure out what the partying was about. But there was John C. Malone, chairman of Tele-Communications Inc., on the stage of the Anaheim (Calif.) Marriott ballroom, peering from behind dark glasses and snapping his fingers as loud rock music played. TCI, the nation's largest cable company, had just reported a $136 million quarterly loss and was in the midst of a series of wrenching cutbacks. That made the theme of the Dec. 11 Anaheim concert--"cable is ready to rock and roll"--more than a little off-key.
In fact, after recently returning from a yearlong absence, the 55-year-old TCI chief is desperately trying to revive his red-ink-plagued company. He's buzzing through TCI with a series of corporate maneuvers that industry insiders say are preparation for a piece-by-piece sale of the $8 billion-a-year giant. "This is a company that was built for sale to a telephone company," says Montgomery Securities cable analyst John Tinker, noting Malone's aborted 1993 deal to merge with Bell Atlantic Corp. "Now, he has to figure out a new exit strategy, and that's not easy."
Within months, TCI will look far different. In early December, Malone spun off to TCI shareholders the company's satellite-TV business, with an estimated $400 million in annual revenue. In early 1997, spin-offs are likely for the company's foreign operations and Liberty Media Corp., a holding company with stakes in Fox Sports, Home Shopping Network, and other cable programming. The sale of TCI's telephone business could follow. Even TCI's core business--its 14 million cable subscribers--has been split into three groups, divided largely by rural, small metropolitan, and major urban systems.
HARDBALL. Who would want the pieces? Hard to say, especially because only about one-third of TCI's systems have the most advanced fiber-optic wiring, and the company's $15 billion debt load is crimping future upgrades. So Malone has ordered savage cost-cutting, including layoffs of 6.5% of the company's workforce. Executives are taking salary cuts of from 5% to 20%, and Malone's $850,000 paycheck is slated to take one of the biggest hits. The cuts are expected to shed $100 million in annual operating costs. Malone also brought back longtime TCI Executive Vice-President J.C. Sparkman, who retired in 1995, to oversee operations.
The TCI chief is already talking deals. He has negotiated with News Corp. Chairman Rupert Murdoch, who wanted to buy TCI's satellite unit for his planned satellite-TV service in the U.S. The talks fell apart, says Murdoch, because the unit didn't own outright industry consortium Primestar Partners, a satellite programming service of which the TCI unit owns 21%. Murdoch feared that if he bought TCI's satellite business, the other consortium members could block him from competing with them. Malone might use the satellite unit's newly issued stock to buy Time Warner Inc.'s 21% stake, according to TCI insiders, as a step toward control. That could restart the News Corp. talks. "You never want to say anything is impossible with John Malone," says Murdoch.
Malone is spending much of his time in hardball negotiations with programmers. TCI's $1.2 billion annual programming bill jumped by 29% in 1996. The company has already dropped such higher-priced channels as WGN-TV, the Tribune Co.-owned superstation, from some of its systems and replaced them with cheaper suppliers. "For those guys who don't get the message, I'd advise them to plan next year's budgets without our 14 million subscribers," Malone told a recent industry gathering.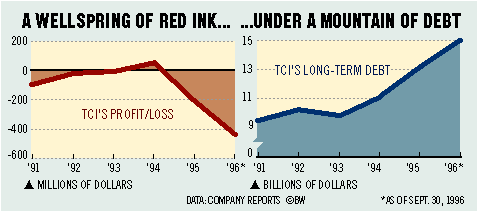 TIGHT SPOT. Tough talk from a man in a tight spot. Debt currently eats up 13 cents of every dollar the company brings in. And raising rates to boost revenue can backfire. When TCI hiked rates 13% in 1996, it promptly lost 70,000 subscribers. Now the company is trying to increase prices a mere 6%, or $1.65 a month, in a few systems. To slash capital costs, it will offer advanced digital services, which provide hundreds of movies on demand, only to its most upscale systems. And it will try to deliver pay-TV and additional channels to its rural systems via satellite TV instead of more expensive fiber-optic wires. "John Malone seems to be saying that cable is not a growth business anymore, at least not with some of his systems," says Tinker. "Those are the systems he intends to milk."
The trick for Malone is to juggle the many balls he has suddenly thrown into the air. Early signs aren't encouraging. Three weeks after the TCI satellite unit spin-off, its stock fell more than 20%, to $10 a share. That's not rocking. That's rolling--downhill.
Before it's here, it's on the Bloomberg Terminal.
LEARN MORE