A Tiger Is Born Off Africa...And Its Claws May Get Sharper
Chris Hall
The guard at Plaisance Airport stares silently at the tourist who has just asked: "Is Mauritius in Africa, or is it in Asia?" It's a tough question. Politically and geographically, this clump of rock in the Indian Ocean is part of Africa. Culturally, it's a muddle: Over 60% of the 1.1 million Mauritians are of Indian descent, and most islanders prefer to speak French or Creole over English, the official language. But economically, the island looks more like Asia, having undergone a "Mauritius Miracle" in the 1980s that pushed per capita income to $3,005 in 1995, among the highest in Africa.
And now, to confuse matters even more, the country plans to carve out a prime spot for itself in the global economy by becoming "the Singapore of Africa." It won't be easy, but the notion isn't laughable. Mauritians, having beaten the economic odds once, are convinced they can do it again.
PLAYGROUND. Some mystery still attaches to the miracle, because other African nations enacted similar reforms, but with far skimpier results. "Everyone asks how we did it," says Chand Bhadain, head of the Mauritius Export Development & Investment Authority. The key was a series of free-market reforms beginning in 1983 that included slashing corporate taxes in half and income taxes by 35%. With such incentives, Mauritius lured foreigners, mostly from Hong Kong, to ship raw materials for clothing and other textiles to the island for assembly. Earnings from this sector quickly eclipsed sugar exports. Last year, textile exports brought in $950 million, while sugar earned $320 million. The island also sold itself as a high-end tourism destination and is now known as a playground for rich Europeans.
In a decade, these moves transformed Mauritius from an agricultural economy with a gross domestic product of $1.5 billion to a diversified one with a 1995 GDP of $3.3 billion. Compare this with Kenya, which has 30 times the population and a GDP of only $7 billion.
Why did these reforms work better in Mauritius than did similar ones in Kenya or even in economically successful Botswana? Bhadain, groping for an explanation, reels off a list: first, the "entrepreneurial culture," a euphemism for the ethnic majority descended from India's trading caste. Second, political stability: Mauritius has been largely democratic since 1968. And finally, solid infrastructure: The government has put its new-found wealth to good use in transport and telecom systems. Bhadain ends by raising his hands skyward and saying, "I suppose we've just been lucky."
No kidding. With the exception of Botswana, Mauritius' regional neighbors are all battling high unemployment, slow growth, and feeble foreign investment. Meanwhile, in the capital city of Port Louis, the miracle is evident. Streets are crowded with folks dressed in hip European fashions or the occasional sari, bustling in and out of new office buildings. There are almost no beggars. Shoppers elbow their way through narrow doorways that open into gleaming malls and boutiques selling Armani dress shirts, Pepe jeans, and cashmere sweaters--all made in Mauritius.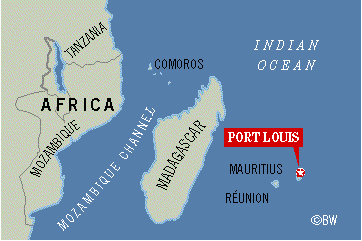 After a decade of boom years, Mauritius is facing a new question: How should the economy be further diversified? "We need more engines of growth," says Raj Makoond, director of the Joint Economic Council, a private-sector lobbying group. The government's plan is to turn Mauritius into a regional commercial nexus for southern Africa. The first steps have been taken: A new transshipment center in the port opened in November to serve as a hub for shipping between Asia, the Middle East, and Africa. And an "informatics business park" for data downloading and processing started up in September and has already been recognized by Silicon Valley as a cheap place to get work done via satellite.
There's one problem: Mauritius' neighbors are mostly either poor, tiny, war-racked, or some combination thereof. That's not much of a market to work with. But Makoond thinks his nation has a secret weapon: its unconventionality. "Mauritius is the impossible meeting of the Cartesian mind and the Asian mind," he argues. "The Asian mind shows up in the chaotic way of life here. The Cartesian mind shows up in the bottom line."
Before it's here, it's on the Bloomberg Terminal.
LEARN MORE