U.S.: From `Exuberance' To Overreaction
The Street isn't seeing the strength in job and factory data
by
It's a rare first Friday of the month that the employment report gets shoved out of the spotlight on Wall Street. But Federal Reserve Chairman Alan Greenspan did just that simply by uttering the words "irrational exuberance" the night before, as he questioned the stock market's recent runup. U.S. traders woke up on Dec. 6 to find markets tanking around the globe. The Dow Jones industrial average dove 144 points in the first half hour of Friday trading.
Still, it was the day's weaker-than-expected job numbers that turned the market around, allowing the Dow to finish the day down by only 55 points and preventing a real disaster. The markets initially feared that Greenspan was hinting that the Fed might raise interest rates to blow away some of the market's froth. However, cooler heads knew that the Fed would not hike rates unless inflation pressures were growing, and the job report showed few signs of that.
To be sure, Greenspan was carefully testing the waters, since an overvalued stock market could greatly complicate Fed policy next year. The Chairman's words have touched off a new edginess in the market. The Dow bounded upward by 82 points the following Monday, but stock prices fell sharply on Dec. 11.
FOR NOW, AT LEAST, the market's jitters go against the positive fundamentals illustrating that economic growth remains moderate, that profits, while slowing down a bit, are still in an uptrend, and that inflation is well contained.
Indeed, on the inflation front, producer prices look tame. Prices for finished goods increased 0.4% in November, pushed up by energy. Core prices excluding energy and foods were up only 0.1%. Core inflation for finished goods is falling (chart), and core prices for both intermediate and crude goods still show outright deflation, with prices below their year-ago levels.
Also, the headline numbers in the employment report suggested modest economic growth. Payrolls increased by 118,000 in November, about 60,000 less than Street analysts generally had expected. Monthly payroll gains have averaged 171,000 in the second half, down from 234,000 in the first half. Also, the unemployment rate rose to 5.4% from 5.2% in October. The data suggested that the economy's slowdown from its peppy first-half pace is continuing.
ONE PROBLEM IS SHAPING UP for both the markets and the Fed, however. Many on Wall Street expect the second-half slowdown to continue into the first half of 1997. But with holiday sales mostly upbeat, and with manufacturing activity showing more vigor, the economy seems poised to snap out of its sluggishness. If the economy picks up, the Fed could be confronted with the very real prospect of having to lift rates.
Even the details of the job report hinted at better growth, especially when it comes to wages (chart). Part of the second-half slowdown is the result of three straight monthly drops in government payrolls. That has not happened since the 1990-91 recession.
Moreover, even with fewer government jobs, the second-half hiring pace still is fast enough to keep the unemployment rate low and job markets tight. The jobless rate remains in the unusually low 5.1%-to-5.4% range it has occupied for the past six months. Also, the weekly data on initial unemployment claims have not signaled any recent shift toward significantly slower job growth or higher joblessness, as the markets seemed to have read from the November job data.
This year's solid job growth certainly has kept consumer confidence high. That optimism, in turn, is motivating shoppers to open their wallets this holiday season. Weekly retail surveys say that sales in early December were way above November's pace. In addition, sales promotions were running below last year's pace. That's the result of slim inventories.
On the heels of improving demand and low stock levels, the nascent upturn in manufacturing should continue into 1997. Factory orders rose strongly in both September and October, up 2.6% and 0.9%, respectively. October orders already have grown at an annual rate of 7.6% above the third-quarter level, faster than the pace for all of last quarter. And the gains have been broad. Orders for nondurable goods rose a steep 1.5% in October.
New demand is translating into new jobs. Factory payrolls rose by 9,000 for the second month in a row in November, and overtime hours increased as well. And the BUSINESS WEEK production index is rising again. All this suggests that the government's November index of industrial production was up solidly.
AT THE SAME TIME, signs of increasingly tight labor markets are growing. So far in the fourth quarter, the percentage of the labor force who are working part time because they say they cannot find full-time work has fallen to the lowest level in two decades. Also, announced layoffs dropped 28.5% in November compared with a year ago, says Challenger, Gray & Christmas Inc. One reason: Optimistic retailers laid off the fewest people in November in three years.
One explanation why job growth has slowed may be that since skilled labor is already in such short supply, many companies are having a hard time finding the workers they need. Even though job growth has slowed from its robust pace of 1994, companies still are placing as many help-wanted ads as they did two years ago.
It should not be surprising, then, that the average hourly earnings of production workers jumped 0.8% in November, and during the past three months, pay is up 3.3% from the same period in 1995. Wage growth has been creeping upward for the past three years.
That's a typical pattern late in economic expansions, when resources start to become strained: Employment growth slows and wage growth picks up, threatening to fuel price pressures. This trend, plus the sharp increase in November wages, strongly argues that the Fed's next move will not be to ease.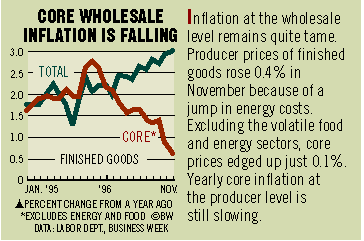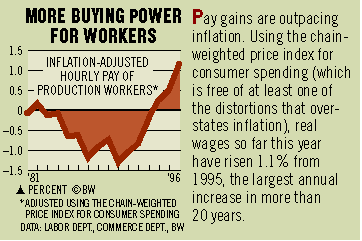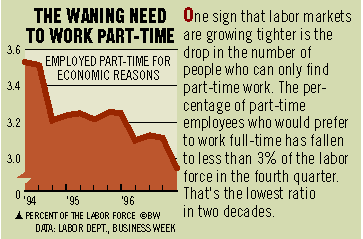 But even as faster growth in wages raises questions for Fed policy, workers are enjoying the benefits. Pay gains are easily outpacing inflation by an increasing margin. Using the chain-weighted price index for consumer spending (which is free of at least one of the distortions cited by the Boskin Commission as a cause for overstating inflation), real wages of production workers so far this year have risen 1.1% from 1995, the largest annual increase in more than two decades. No wonder retailers are running low on some goods.
Greater purchasing power, low inventories, and rising factory orders are strong arguments for faster growth next year. If Greenspan is successful in talking down the market, then the Fed will have more maneuvering room should a rate hike be necessary.
Before it's here, it's on the Bloomberg Terminal.
LEARN MORE