The First Name In Modems Gets A Second Chance
With new investors, Hayes targets corporate road warriors
Nicole Harris
When Jeffrey L. Rodgers strolled into a CompUSA recently to buy a modem for Web browsing, he got caught in the crossfire of a high-tech marketing battle. As Rodgers scanned the shelves in the cramped modem aisle, a young regional sales rep for U.S. Robotics Corp. tried to talk him into buying his company's latest 33.6-baud modem. Moments later, a rep from Hayes Microcomputer Products Inc. eagerly approached Rodgers with his sales pitch. Rodgers walked out without a modem but says he's leaning toward U.S. Robotics. "They're setting the standards now," he explains.
It used to be the other way around. Once, Hayes was to modems what Microsoft Corp. is to personal-computer software. But that was the 1980s. Since then, companies such as U.S. Robotics, Zoom Telephonics, and Boca Research have out-engineered Hayes with new technology and pushed down prices. Hayes's market share went from about 35% to 8.4%. Privately held, undercapitalized, and run nearly single-handedly by founder and Chairman Dennis C. Hayes, the onetime modem leader was slow to respond. When it did, production snafus choked output, leaving the Norcross (Ga.) company with $28 million in losses and $45 million in debt. In 1994, it filed for Chapter 11 bankruptcy protection.
Now, Hayes has bounced off the bottom and is trying for a comeback. After an aborted merger with Boca and rebuffing two buyout offers, including one from U.S. Robotics, the company exited Chapter 11 in April with a new management team and a $35 million investment from three Asian technology companies, which have a 49% stake.
Hayes also has a new strategy: Rather than selling just modems, it proposes to sell everything workers outside the office need to stay wired. This includes technology such as "remote access" software to smooth connections to corporate networks. "Most of our competitors are worried about building the access, but that's just the plumbing. We want to create the software to make the plumbing work," says Hayes.
Before Hayes can remake itself, however, it must overcome some obstacles. First, it has to prove it can make money. For the quarter ended on Sept. 30, Hayes lost $9 million on revenue of $55.2 million, a 24% drop from the year before. And analysts question the company's ability to succeed in software. "The barriers to entry are higher, and they would have to convince customers they know what they're doing," says Paul Johnson of Robertson Stephens & Co. Also, Hayes needs to win back corporations that stopped buying its gear when it fell behind in modems. These are the customers for remote-access programs--and they are already getting pitches from networking heavyweights 3Com Corp. and Cisco Systems Inc. for remote-access products.
POINT MAN. The job of overhauling Hayes and launching the new strategy falls to Joseph Formichelli, 53, a former IBM exec who took over the CEO title from Hayes. Formichelli has streamlined management, slashed inventory, and nearly halved expenses. He slashed the number of products from 700 to 120 and is focusing on models that deliver relatively strong profits. Gross margins are 18.3%, vs. 15.6% a year ago.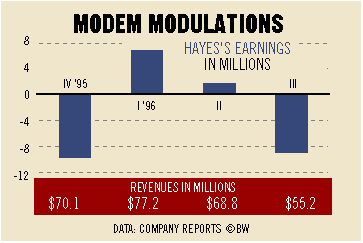 Formichelli has sped up new- product development, too. The first of Hayes's virtual-workplace products, Talk N Fax, is due in stores in January. The $199 package includes a modem and software that allows simultaneous voice and data traffic over the same line.
Hayes is also getting back into the speed race. In September, it introduced modems that operate at 33.6 kilobits per second. In November it said it would have 56K modems by February--around the same time such products are expected from U.S. Robotics. At a recent sales rally, Formichelli exhorted the troops to go after today's market leader. "I told them, `Instead of watching U.S. Robotics get bigger, let's do something about it."'
Before it's here, it's on the Bloomberg Terminal.
LEARN MORE