Mexico: The Recovery Still Isn't Helping Everyone
by
Despite a larger-than-expected gain in last quarter's real gross domestic product, Mexico still resembles an economy in transition rather than one in full recovery.
Real GDP grew 7.4% in the year ended in the third quarter and so far this year is up 4.4%. That's a bit better than government expectations, but it hardly recoups the 6.2% loss in output for all of 1995, when the economy skidded into recession after the government devalued the peso in December, 1994.
Industrial output jumped 14.6% last quarter from a year ago, pushed up by merchandise exports, which rose 21.4%. The export surge offset a higher-than-expected rise in imports and lifted the third-quarter trade surplus to a record $1.42 billion. But because of investment outflows, especially interest on foreign loans, current account balance had a $713 million deficit last quarter after running a small surplus in the first half.
Although exports should continue to do well into 1997, the question is whether domestic demand will turn around. Consumer spending has been in a free fall, hurt by weak job prospects, a credit crunch, and inflation running at about 28%. In October, retail sales were down 7.6% from a year ago, the 18th consecutive monthly decline.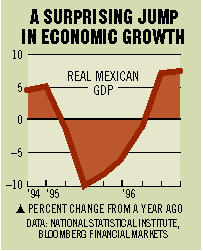 Consumer buying will likely remain weak despite better news on the job front: The October jobless rate for Mexico's urban areas slipped from 5.5% in September to 5.2%, the lowest rate since January, 1995. And factory employment rose 4% in the year ended in September. However, the economy must grow 5% in order to create enough jobs to absorb the 1 million workers who enter the labor force every year, suggesting that the jobless rate will rise again. And in the nearly two years since the devaluation, real wages have fallen 21%.
With moderate growth expected in the U.S., Mexico's exports probably won't repeat 1996's huge gains, which means more lending and better job growth must occur for consumers to contribute to and expand Mexico's recovery.
Before it's here, it's on the Bloomberg Terminal.
LEARN MORE