Deck The Halls With Unsold P Cs
Computer retailers are looking at a Christmas bust
by
There will be no personal computer under the Christmas tree at the DeLaHaye household this year. Instead, the Pembroke (N.H.) family is sprucing up the Packard Bell Electronics Inc. machine it already owns with a faster modem and more memory. The difference between the family's two-year-old multimedia PC and current models "wasn't worth throwing a whole computer system out and getting a new one," says Dean J. DeLaHaye.
For the nation's electronics retailers, which count on Christmas buyers for the bulk of their annual profits, such thinking is sending shock waves through the business. Ho-hum products, competition from a new generation of game players, and a dwindling market of upper-income families sans PC are all taking their toll on retailers this season.
SLIM MARGINS. Same-store PC sales at Best Buy, Tandy, and Circuit City Stores fell 2% to 15% in November. "PCs are soft for all of us," says Robert A. Gunst, CEO of California electronics chain the Good Guys. Such results are an anomaly in a booming Christmas selling season for retailers in general: In the two weeks following Thanksgiving, retailers posted sales 1% to 2.6% higher than last year's levels.
In computer stores, though, soft sales and slim profit margins are forcing a restructuring of the $28 billion business. Pressured by low profits, regional electronics chains such as Dow Stereo/Video in San Diego, Sound Advice in Dania, Fla., and Magnolia Hi-Fi in Seattle quit selling PCs altogether during the past 18 months.
Now, the troubles are hitting the biggest players. On Dec. 10, Tandy announced plans to close its McDuff electronics stores. And analysts say Tandy is likely to revamp other outlets. "I think Tandy might be getting rid of Incredible Universe and cleaning up Computer City," says Janney Montgomery Scott Inc. retailing analyst and vice-president of research Terry McEvoy. Tandy wouldn't comment. In November, Wal-Mart Stores Inc. said it will stop carrying PCs in 679 of its 3,500 stores this year.
Consumer PC sales, of course, aren't falling through the floor. Overall home-PC sales will rise 17% this year, to 9.7 million units, according to market researchers Access Media International (USA) Inc. That's just one point off last year's growth rates. What's more, Toshiba and Sony, which are new this year to U.S. consumer PC markets are attracting new buyers with stylish looks. And a few retailers, notably Sears, Roebuck & Co., say sales are running ahead of last year.
But buying patterns are changing. Electronics stores that sprang to prominence in the home-PC boom two years ago are losing sales to mail order. According to Access Media, mail-order and other direct purchases will account for 13% of U.S. home-PC sales this year, up from 10% in 1995.
Consider Ricky Fluke. For two months, the Fort Worth (Tex.) mental-health-care worker shopped around for a new machine to replace his two-year-old computer. He checked out the wares in Computer City, CompUSA, and Radio Shack. But three weeks ago, Fluke bought his new $1,600 Pentium PC direct from Lucky Computers Inc., a small Richardson (Tex.) manufacturer. "For the price I paid for this, I would have gotten quite a bit less" at the big retailers, he says.
The computer industry is not doing its part to goose holiday sales, either. Analysts and retailers say there's a dearth of compelling new features on personal computers. What's more, the anticipated introduction Jan. 8 of a new Intel Corp. microchip for multimedia PCs is putting a dent into sales this season, as buyers hold off in anticipation of new products.
DOOM GLOOM. Slowing growth in the home-PC business isn't just hitting hardware retailers. In consumer software, "overall unit sales are greater but not by as much as we'd hoped for," says George D. Grayson, chief executive of developer 7th Level Inc. Last year, software makers benefited from demand created by the launch of Microsoft Corp.'s Windows 95. There's no new operating system this year to stimulate purchases. And, Grayson says, computer makers are installing higher-quality programs with their machines this year.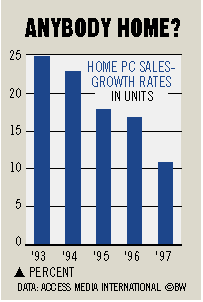 If that weren't enough, the PC is under pressure from a new generation of powerful game players. On Dec. 4, shares in GT Interactive Software Corp., which sells Doom II and this year's hottest new PC game, Quake, tumbled 38% on predictions that fourth-quarter sales would fall $25 million to $35 million below Wall Street estimates of $150
million.
The main culprit: strong competition for consumer software spending from Nintendo 64 and SegaSaturn game machines. "The games console market is taking some of the focus away from the PC," says UBS Securities Inc. analyst Michael P. Wallace. This Christmas, the quake in computer retailing will be no game.
Before it's here, it's on the Bloomberg Terminal.
LEARN MORE