Amdahl's Bulging Order Book
By
For a company that has had a bumpy ride for much of the year, Amdahl (AMH) has fared quite well of late. Its stock, down to around 8 in mid-July, has been on an upswing since then, hitting 12 3/4 on Dec. 10. And some investment pros who have been buying think the momentum will continue.
One California money manager figures Amdahl will hit the mid-20s in 6 to 12 months as it fills mounting orders for its new line of computers--and for its software and services. As part of a move to return to profitability, Amdahl is making a strategic transition from being just a hardware company into becoming a service company as well.
The "new Amdahl," says analyst Thomas Rooney of Donaldson, Lufkin & Jenrette Securities, uses hardware to get in customers' door to sell higher-margin services.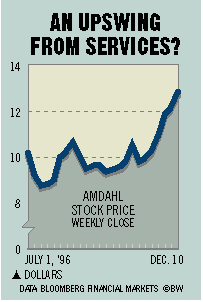 Over the past 12 months, Amdahl acquired two information-technology service providers--TRECOM Business Systems and Canada's DMR Group--that give Amdahl entree to the growing business of reconfiguring computer systems for the year 2000. Rooney says this business will bring in "steadily increasing" profits as Amdahl benefits from Year 2000 integration as well as from the cross-selling of services. On Dec. 9, Amdahl announced it would supply two Millennium 535 Global Servers, believed to be worth several million dollars, to Star Data Systems, a Canadian provider of online financial information systems.
Analysts note that Amdahl snapped back to profitability in the final quarter of 1996. In 1997, Rooney figures Amdahl will earn $1.05 a share.