A Parched Land Cries For Water...While An Oasis Blooms Once More
Kirk Albrecht
Umm Said remembers when she would go with her mother to the river to wash clothes. "We used to play in the water," says the 67-year-old Amman resident. "It even had fish in it." But it's hard to believe today that a river used to run through the center of Amman. Now it's a shallow downtown gully that sees water once or twice a year after heavy rains.
That river is a painful reminder of what has happened to Jordan over the past 30 years. A booming population, poor management, and regional neighbors taking more than their fill of the rivers that feed the Hashemite Kingdom have placed Jordan on the edge of severe water shortages.
BROKEN PIPES. Back in the days when Umm Said was helping her mother, Amman was a town of 20,000. Today, the population is 1.4 million and growing at 3.6% a year, one of the world's highest growth rates. But Jordan's use of 90 liters of water per person a day is among the lowest rates in the world--half of Israel's and one-fifth of Egypt's, and less than a third of U.S. use. Scarce resources have hampered development by scaring off industries that use lots of water. And areas of Amman with poor pressure get water only twice a week in the summer. Some of Jordan's 4.2 million people, mostly in villages, get even less.
Of course, it's not all nature's fault. A drive through Amman reveals a water system full of holes, as broken pipes spew water. The World Bank says Amman's rate of leakage is an alarming 54%, almost triple the global average of 20%. Overpumping has completely dried up some water sources. Low-value, water-intensive crops such as wheat and barley drain reserves that could meet domestic need.
And then there are those pesky neighbors: Syrian diversion of water from the Yarmouk River, for example, has deprived Jordan of more than two-thirds of the 130 million cubic meters a year allocation suggested by a 1955 U.S. study. And Jordan says Israel has been taking too much from the Jordan River.
Hopes to turn things around hinge on regional water projects. "Jordan can't survive on its own resources past about 2010," says a U.S. Agency for International Development water expert in Amman. A proposed Dead Sea-Red Sea canal would give Jordan 750 million cubic meters a year of desalinated water--almost double its current supply of 400 million--but the estimated $4 billion price tag has many critics doubting its viability. The project will also be a test of cooperation with Israel and the Palestinians, who will claim rights to the water. Jordan is negotiating with Syria for its fair share of the Yarmouk.
Another promising source is the Disi aquifer on Jordan's southeast border with Saudi Arabia. A British study released in 1995 said Disi could provide 160 million cubic meters of fresh water a year for 100 years, but Jordan has yet to find funding for the $2 billion to build a pipeline to Amman. With the price of getting water to its people so high, it's no wonder the World Bank says Jordan should consider water "liquid gold."
By the early 1990s, Jordan's overpumping had turned Azraq--a natural oasis 110 kilometers northeast of Amman--into a wasteland. The two main springs that fed a lake covering several square kilometers had dried up, and the lake, once home to 250 species of migratory birds, was gone. "We had killed Azraq," says Dr. Ghaith Fariz, director of a project funded by the U.N. Development Program aimed at giving new life to one of Jordan's best water sources.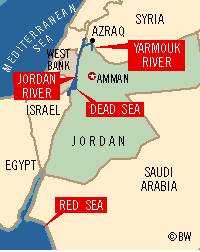 Beginning in 1994, the Azraq Oasis Conservation Project turned the water tables, sending 2 million cubic meters a year of water from other sources back into the oasis. The results have been startling: Reeds and tamarisk trees cover the once barren area, wildlife such as the red fox again roam the wet marshlands, and many of the birds are back. But Asraq isn't out of danger: Jordan is still taking more water from the oasis than it can afford to give. "We've saved Azraq for now," says Fariz. "But the overpumping has to stop, and other sources of water need to be developed in the next five years, or we'll be dry once again." Just like that old river in Amman.
Before it's here, it's on the Bloomberg Terminal.
LEARN MORE