Upping The Bid For T. Rowe Price?
by
When shares of T. Rowe Price Associates (TROW) hit 25 in January, many analysts grew wary, noting that T. Rowe Price--one of the largest publicly traded mutual-fund companies--was simply benefiting from a surging stock market and rising mutual-fund sales. They warned that, should the market wane, mutual funds' honeymoon would end. Now, with the Dow Jones industrial average at around 6500 and T. Rowe Price at 36, analysts are more skittish still--toward the market and this stock.
But some continue to accumulate T. Rowe Price: They think mutual funds will keep thriving--and that T. Rowe Price, which manages $100 billion, is buyout-bound.
A New York money-center bank is hot for T. Rowe Price, insists one investment manager, who says representatives of the bank held informal talks with key T. Rowe Price people and offered 60 a share.
This pro says the bank's top brass, in hunting for a mutual-fund outfit that had "major assets" and a management and people "they could live with," finds that T. Rowe Price, which is also strong in the international market, fits the bill. This investor believes the bank is poised to raise its bid to 80 to make sure it gets taken more seriously.
T. Rowe Price "is taking in more money now, and the outlook for further growth appears excellent," says analyst Paul Huberman of Standard & Poor's. He says prospects are enhanced "by the increased retirement savings of the baby boomers and the company's outstanding 401(k) franchise." Also, the economics of the mutual-fund business are "compelling," adds Huberman. The company posted pretax margins of 31% in the third quarter, he notes, and its return on equity was more than 20%. Also, its debt is negligible.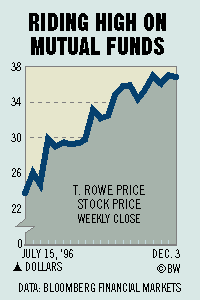 Analyst Steven Eisman of Oppenheimer raised his earnings estimates after the strong third-quarter report. He lifted his 1997 estimate to $1.80 a share from $1.85, and his 1996 forecast to $1.55 from $1.57. The company made $1.24 a share last year.
"Mutual-fund flows have continued their torrid pace through 1996, and asset-management companies as a group have outperformed [the market]," says Eisman. Currently trading at 18.8 times his 1997 estimate, T. Rowe Price stock has the highest price-earnings ratio in the group, he says. A spokesman for T. Rowe Price says the company doesn't comment on market rumors.
Before it's here, it's on the Bloomberg Terminal.
LEARN MORE