U.S.: Yes, Retailers, There Is A Santa Claus
Brisk holiday shopping will boost the economy in the new year
by
More sweaters and fewer sofas. Jewelry is hot; computers are not. And if parents already haven't bought this year's list-toppers, Tickle Me Elmo and Nintendo 64, well, some children may be disappointed.
Welcome to Christmas 1996. Unlike last year's cruel yule, this holiday shopping season is looking pretty solid so far--and its good tidings will extend beyond retailers. The economic outlook for 1997, especially for goods producers, looks a lot cheerier as well.
Thanks to healthy job growth and rising real wages in 1996, consumers are feeling more confident and have more cash to spend this year. And given the estimated 1.1% overstatement of the consumer price index, workers' purchasing power is even greater than previously thought. Many retailers said that sales met or exceeded expectations on Black Friday, the day after Thanksgiving when they hope their bottom lines go from red to black (chart).
To be sure, merchandise is being discounted, but the price reductions look more controlled than last year's. That's because low inventories mean that many items may sell out before retailers succumb to the siren call of drastic discounting. If shoppers buy most of the retail offerings, merchants will be reordering in January--boosting output at manufacturers who are finally showing more life after a sluggish summer.
The Federal Reserve's Dec. 4 beige book report on economic conditions around the 12 Fed districts said that retailers' holiday expectations were "moderately optimistic." The Fed also noted that "moderate economic growth continues to be reported" in nearly all districts, similar to the last reading in October.
SOLID CONSUMER FUNDAMENTALS are the primary catalysts behind the pickup in demand. Real gross domestic product grew at a revised 2% annual rate in the third quarter, lower than the 2.2% first reported, and much of that weakness stemmed from a dormant consumer sector. Final sales to consumers, businesses, foreigners, and government edged up just 0.4% last quarter. In addition, the downward revision to inventories was less than expected, and net exports dragged down growth by more than initially reported.
Consumers, however, are boosting their spending again. October real outlays started this quarter at a 1.2% annual rate above its third-quarter average, already double its gain for the entire summer period. One caveat for November, however: Since Thanksgiving was later than usual, there are five fewer holiday shopping days this year, which could depress the government's seasonally adjusted sales data. LJR Redbook Research said that sales at department and chain stores for November dipped 0.7% from October.
Nevertheless, the shopping season got off to a strong start. The International Council of Shopping Centers reported that specialty stores in shopping malls saw sales soar 11% on Black Friday compared with a year ago, the best showing in at least four years. Sales for the entire Thanksgiving weekend were up 11.9% from a year ago when sales were flat.
Although intangibles such as consumer confidence and job security have increased this year, the strongest supports for spending this holiday season come from an increase in financial assets. Wage gains, for instance, have been quite healthy. Although real disposable income dropped 0.3% in October, real income has grown at a 2.1% annual rate so far this year, stronger than the 1.7% gain in real spending. In addition, the surge in the stock market and higher real estate values may make consumers more comfortable about spending a higher proportion of their incomes.
HIGHER HOME PRICES are the result of the strength in housing. New single-family home sales fell 8.7% in October to an annual rate of 714,000. But sales for the year are running 13.2% above their 1995 totals (chart), and home buying in 1996 is on track to eclipse even the boom year of 1986. The average price of a new house is up 4.1% this year.
Consumers were buying homes in the first half of 1996 even as mortgage rates inched higher. Since July, however, interest rates have come down, with the rate for a 30-year fixed mortgage slipping from 8.5% to 7.75%. That dip should revive housing in the winter.
Lower rates have also touched off another round of refi madness. The Mortgage Bankers Assn. says applications to refinance mortgages doubled from July to November. Most won't be approved until 1997, but the prospect of lower mortgage payments next year makes it easier to use credit cards for holiday shopping.
THE BENEFITS OF STRONGER FINAL DEMAND will go beyond retailing, of course. Manufacturers should profit from the increase in domestic spending, especially since the gain is complemented by better export demand.
The Commerce Dept. reported that new durable goods orders rose 0.1% in October following a 4.6% surge in September. Excluding the volatile transportation sector, bookings were up 0.4% in September and an additional 2.9% in October.
Increased demand is why factory activity continued to pick up in November, according to the National Association of Purchasing Management. Their business conditions index increased to 52.7% in November, from 50.2% in October. The production index was especially strong, vaulting from 56.6% to 58.6%, the highest reading since January, 1995 (chart).
The NAPM orders index also jumped, to 55.4% from 51.6%, lifting the index of unfilled orders as well. Export orders alone slipped slightly to 55.8% from 56.1%, but November marked the ninth consecutive month that the index was above the 50% mark, indicating exports are rising.
The NAPM also reports that inventories are not excessively high. The NAPM said that 72% of their members thought inventories held by their customers were at the right level. That's up from 63% in October. Only 13% of purchasers thought inventories were too high.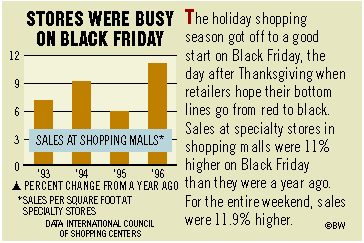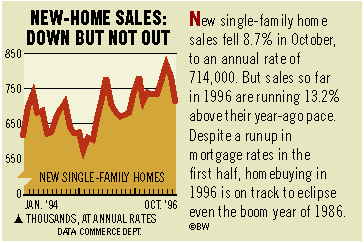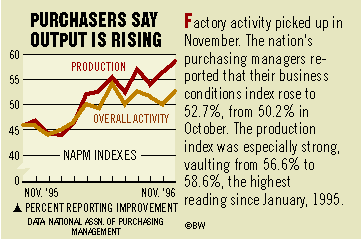 The construction industry is also doing well this quarter. Outlays for building projects surged 1.8% in October, the third gain in a row. Private construction spending was up a smaller but still strong 0.9%. After adjusting for inflation, real construction outlays started the fourth quarter at an annual rate of 11% above their third-quarter average.
Growth in sectors such as exports and construction will help boost GDP growth this quarter and next. However, consumers still account for the bulk of spending, and their performance can make or break the economy. Right now, Elmo shortage or not, shoppers appear ready to make this holiday season a winning one for retailers. And that success will spread good cheer to other industries into 1997.
Before it's here, it's on the Bloomberg Terminal.
LEARN MORE