Mrv: Why Intel Is So Interested
by
As if out of the blue, Intel agreed on Nov. 27 to invest $4 million in tiny MRV Communications (MRVC), a maker of semiconductor laser diodes and fiber-optic transmitters. MRV, then at 171/2, jumped to 201/4 on the news Intel was buying 200,000 shares at 20 apiece. Intel's investment could balloon to $14 million if it exercises an option to buy a further 500,000 shares, also at 20.
Intel already knows MRV quite well, having signed a pact this year for MRV to develop and produce high-speed switches. MRV has a similar deal with Fujitsu of Japan.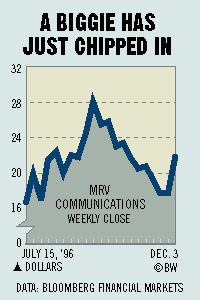 Intel, whose chips are used in nearly every personal computer, is interested in MRV's networking products that will boost the productivity of Intel-architecture PCs. "Intel's investment reinforces its commitment to MRV to develop a long-term relationship to be able to use MRV's rich technology," says Vivek Rao, analyst at Hampshire Securities.
He thinks Intel is buying MRV stock cheap: It still sells at a big discount to its peers, such as Ascend Communications and Cascade Communications. MRV is trading at 26 times estimated 1997 earnings, vs. 58 for its peers. Rao says MRV is worth 38, based on 50 times his 1997 estimate of 77 cents a share. He figures MRV will make 45 cents this year and $1.12 in 1998, compared with last year's 22 cents.
Some say Fujitsu may ape Intel and buy a stake in MRV. Rumors were fueled by MRV President Noam Lotan's departure for Japan on Dec. 3.
Before it's here, it's on the Bloomberg Terminal.
LEARN MORE