Is Japan Headed For Another Recession?
Something is gravely wrong with the economy, and real reform still seems elusive
by
Walking through the sprawling Takashimaya mall in central Tokyo, Sachie Kodaira, 50, avidly checks out the glittering cosmetic displays. They're tempting, but she's not spending. Her family budget is so strained she recently took up a temporary job to bring in more cash. And she's not buying the government's soothing pronouncements that the Japanese economy has finally pulled out of its prolonged slide. The future, for her, is a frightening place. "I'm cutting down on expenses as much as I can," she says with a sigh.
So is everyone else in Japan. Consumer spending, which accounts for 60% of the economy, plunged 4.6% in September, one of the biggest monthly drops on record. Government officials, hoping to gloss over the drop, cite the impact of a cool summer and a food poisoning outbreak on retail and restaurant sales. But even without those seasonal factors, consumers have kept their wallets shut tight for four years. Something is seriously wrong with Japan's economy.
DOWNWARD SPIRAL? Simply put, none of the traditional remedies of the bureaucrats has fixed the economic mess. Government spending programs have lavished billions on various public works, the Ministry of Finance has engineered a depreciation of the yen to relieve hard-pressed exporters, and the Bank of Japan has brought interest rates to record lows. But while Japan's top tier multinationals are showing clear signs of recovery, banks still face a crisis, the real estate market is in a slump, and the vast domestic economy is stuck. In the quarter ended in September, the economy grew at an annual rate of only 0.1%. Next year, Nomura Research Institute Ltd. figures the gross domestic product will advance just 1% or so.
This dismal performance may set the stage for a long-awaited showdown between opposing forces inside the political Establishment. In the wake of his reelection, Prime Minister Ryutaro Hashimoto has pledged a broad reform of the heavily regulated domestic economy. A successful deregulation would unlock new growth and lower prices for both consumers and companies. But it will be tough to persuade Japan's bureaucrats, especially those at the Ministry of Finance, to dismantle the mercantilist-leaning system of shielded domestic markets, inflated domestic prices, and strong exporters. If MOF wins, then the formulaic planning that has impaired Japan's domestic economy for so long will likely continue, and the country could spiral into long-term decline.
The high stakes give Hashimoto every reason to act. Unless he takes a machete to Japan's bloated living and wage costs, more than double those in the U.S., consumer demand will continue to lag, and many manufacturers will head for the exits in search of cheaper digs abroad. Official forecasts are for some 1.2 million manufacturing jobs to go offshore in the next few years as Japanese companies seek to restore their competitive edge. And without higher growth rates, the country faces a demographic squeeze in 2010, when roughly a quarter of Japanese will be senior citizens, and social security programs will run out of cash. Meanwhile, Japan will miss its chance to expand the world economy by deregulating at home, a move the U.S. and other trade partners demand.
SHOCK THERAPY. Yet beneath this gloom lies an historic opportunity for Hashimoto, whose Liberal Democratic Party calls the shots. Faced with dire government forecasts that Japan will be lucky to achieve long-term growth rates of 1.75% without reform, Hashimoto is pulling together a shock therapy program. In early November, his government unveiled a proposed makeover of Japan's inefficient financial markets. A decision to bust up the $70 billion Nippon Telegraph & Telephone Corp. to spur competition may be in the works. But the Cabinet is also formulating a far broader package, due in early 1997, to revitalize the transportation, wholesale, retail, housing, and real estate markets.
For reforms to succeed, complex government-industry relationships would need to be dismantled. The bureaucrats who micromanage roughly 40% of Japan's domestic output via an opaque system of "administrative guidance," licenses, and regulations would have to be tamed. Even Hashimoto admirers have doubts he can pull it off. "Radical reform in Japan is really going to take many years," concedes Minoru Murofushi, president and chief executive of trading company Itochu Corp.
Yet nothing else has worked. Since 1992, Japan has introduced six big spending packages worth a staggering $540 billion. Unfortunately, these sums were funneled into marginal projects such as fishing ports, with little payoff. The result: From 1992 to 1995, economic growth averaged little more than 1%. Meanwhile, a strengthening yen badly hurt the profits of major exporters from Toyota Motor Corp. to Hitachi Ltd. The only benefit was the break consumers got from suddenly cheap imports.
Then, starting last year, the MOF tried its usual cure by orchestrating a weakening of the yen. The 40% depreciation has made Japanese exports bargains once more. Japanese lenders were also thrown a lifeline by near-zero rates that allowed them to borrow cheaply and plow the money into Japanese bonds yielding nearly 3%. That helped Japan announce an annualized growth rate of 12.2% in the April-to-June period, the first quarter of its 1996 fiscal year.
But now the bad news has caught up again with policymakers. The banking industry is showing few signs of recovering from its bad real estate loans. More bank failures are expected. A big government spending package now seems unlikely, since the budget has swung from a 1992 surplus worth 3% of gross domestic product to a Europe-style deficit of 5%. With the full backing of a deficit-wary MOF, Hashimoto is expected to hike the national sales tax two percentage points, to 5%, and repeal income tax breaks worth about $18 billion annually. These moves will knock a full point off private spending next year, which will grow all of 1.4%, figures CS First Boston.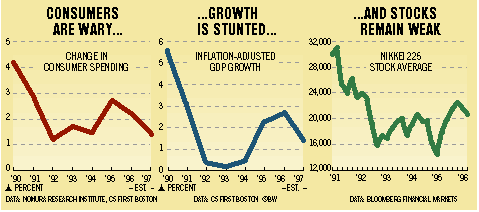 TURNING UP TENSIONS. Nor can Japan count on weakening the yen much more. Already, Detroit auto makers are clamoring for relief in Washington after Japan's politically sensitive trade deficit with the U.S. spiked in October, snapping 20-odd straight months of declines. To benefit from the weaker yen and boost U.S. share, Toyota has slashed the sticker price on its 1997 Camry family sedans in the U.S. by up to $1,750. Such moves could turn up trade tensions. But if the yen does strengthen more, Japanese manufacturers' costs will become painfully high once again. Only serious deregulation can lower those costs.
Japanese policymakers are renowned for their brilliance in managing the formation of one of the world's greatest economies. That achievement required years of careful planning and perseverance. It's time Japan's bureaucrats use those same skills to reinvent their country, a country open enough and resilient enough to grow once more.
Before it's here, it's on the Bloomberg Terminal.
LEARN MORE