How Triton May Strike It Rich
by
Oil stocks are heating up again--from another surge in crude prices. But for Triton Energy (OIL), an oil-and-gas explorer focusing on prospects overseas, there is an added factor: a takeover. What's the appeal of Triton, compared with the many other producers around?
The key is its reserves abroad, in particular the Cusiana and Cupiagua fields in Colombia--where production started in 1994--and in the Gulf of Thailand, where Triton has a production-sharing agreement. "These reserves are what the larger oil companies are really after," says one New York money manager who invests mostly in oil stocks.
This manager says Exxon, British Petroleum, and Texaco are interested in Triton. In a buyout, he says, Triton would be worth 70 to 100 a share, compared with 48 now. The big oils, worried about political tension in the Middle East, are looking elsewhere for alternative supplies, he says.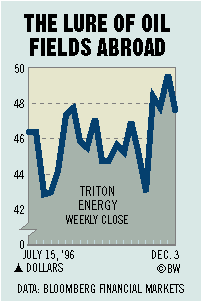 "Drilling results in the joint development area off the shore of Malaysia and Thailand have been outstanding," says Dillon Read analyst Monroe Helm in Dallas. And the outlook for Triton's 12% interest in the Colombian field "continues to improve," he adds. Apart from Triton, investors in this field include BP, Ecopetrol, and France's Total.
Helm figures Triton's assets in Colombia, Malaysia, and Thailand are worth 80 a share. He sees output from Colombia rising to 500,000 barrels a day by the end of 1997, up from 180,000 barrels now. "Our 1997 target price [for Triton] remains 70 a share, with a longer-term target of 80 to 100," he says.
Before it's here, it's on the Bloomberg Terminal.
LEARN MORE