Heard On The Grapevine: Burgundy Is Back
A surge in exports is handing the wine region a very good year
William Echikson
In Burgundy wine country, auction day in Beaune sets the year's mood for merchants and growers. After five years of deflated prices and with a record harvest to unload, producers had low expectations on Nov. 17, when well-groomed, cashmere-clad buyers from around the world crowded into Beaune's market hall, opposite the flamboyant Flemish-style Hospices building. But as the bidding progressed, voices shouted out ever-higher prices. When a batch of top-grade whites, sold for charity, fetched an amazing $1,000 a bottle, thunderous applause erupted. All told, the auction prices jumped a sharp 12% above the previous year's. "The pessimism is over in Burgundy," said a beaming Beaune Mayor Alain Suguenot.
Much of France's wine industry is also celebrating. Last year's consumer boycotts protesting French nuclear tests have evaporated, boosting exports. Air France added extra planes last month to ship record amounts of Beaujolais Nouveau around the globe. In Bordeaux, too, the wine industry says the excellent harvest has pushed sales up this year by 2% in volume and 13% in value.
Burgundy prices started crashing in 1989 (chart), as consumers complained about the other-worldly cost and uneven quality of the region's fragrant ruby-red pinot noirs and pungent, golden-white Chardonnays. "Our prices fell by as much as half, and foreigners now perceive them as much more reasonable," says Louis Trebuchet, president of the Bureau Interprofessionel des Vins de Bourgogne. Exports, which account for 56% of Burgundy sales, are expected to rise 8% in value, to $520 million, this year. While ever-tougher competitors from Chile to California still are hurting the lower-priced French wines, prosperous Japanese, Americans, and Germans still can't get enough of the choice white Meursault and Puligny-Montrachet grands crus, which often fetch more than $150 a bottle.
A new professionalism is giving the region a boost, too. Burgundy got a black eye back in 1987, when police caught the region's biggest merchant, Bouchard Pre et Fils, illegally adding sugar to its wine and mixing grapes from different villages. In June, 1995, the Bouchard property was sold to Joseph Henriot, former president of Veuve Cliquot champagne. To repair Bouchard's image, he has launched a marketing campaign promoting the firm as a producer of its own fine wines, not just a merchant selling somebody else's.
The long price downturn, meanwhile, has drawn bargain-hunting American and Japanese investors into the region. They have propped up financially troubled merchant houses such as Louis Jadot and Joseph Drouhin, often leaving family management in place. "When prices dropped, many of us were left with expensive stocks," recalls Frederic Drouhin, assistant general manager of Joseph Drouhin. "Our Japanese friends gave us a new financial freedom."
GALLING PROBLEM. At the same time, a new generation of growers and smaller merchants has improved the overall quality of Burgundies. Olivier Leflaive of Puligny-Montrachet says his sales are up 30% this year. "When you make good wine here, the biggest problem is finding enough to sell," Leflaive says. Daniel Chopin, who produces only 30,000 bottles of top-quality Nuits-
St.-Georges wine priced as low as $8, says his customer waiting list stretches for years. "Somebody has to die before I can sell you anything," he says.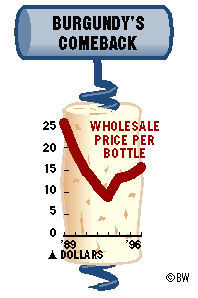 Like most other French wine regions, Burgundy still faces one galling problem: sagging domestic sales. They account for only 44% of Burgundy volume this year, down from more than 50% two years ago. The biggest drop is among French drinkers aged 25 to 35: They find the wines too expensive and are confused by the myriad names of domaines, or small producers, and labels--unlike Bordeaux, a region dominated by fewer large chateaus. In response, Burgundy's wine bureau is advertising the region's less expensive labels, selling for as little as $5 a bottle in France. "Burgundy needs to be made less sacred," says Francoise Bidot of the Beaune Tourist Office.
The next challenge may be to keep history from repeating itself with a new self-defeating price spiral. So while Burgundy wine growers and merchants savor their new success, they know they can't let it go their heads.
Before it's here, it's on the Bloomberg Terminal.
LEARN MORE