Gm's Slow Mo Minivan Rollout
Will its cautious launch stall profits?
Kathleen Kerwin
Call it a manufacturing mystery. General Motors Corp. shut down its Doraville (Ga.) factory in the summer of 1995 for a huge overhaul prior to the start of production of a new generation of minivans. Yet even now, the assembly line is running at only two-thirds of capacity--and won't reach full speed until March. The 20-month changeover in an industry where the fleetest competitors switch models in a month or less has many baffled. "I just don't understand it," says James E. Harbour, the respected head of manufacturing consultant Harbour & Associates in Troy, Mich. "It's a waste of time and money."
GM isn't letting outsiders into the Doraville plant and won't discuss specifics of launching the eagerly awaited minivan, a crucial element in a freshened lineup. But the painfully slow introduction illustrates the difficulties that the No.1 auto maker faces as it remakes 25% of its lineup with launches of 15 vehicles at 8 plants.
At Doraville, as at many of the factories it is modifying, GM has installed flexible, high-tech equipment that should ease future changeovers. But the overhaul means that attractive new vehicles are taking months to hit showrooms. In the meantime, the auto giant is losing profits and market share while paying steep manufacturing costs and overhead. Says Furman Selz Inc. analyst Maryann N. Keller: "Financially, it's a disaster."
QUICK-STUDY ROBOTS. Nowhere is GM's dilemma more evident than in the $28 billion minivan market. Its 1997 Chevrolet Venture, Pontiac Trans Sport, and Oldsmobile Silhouette minivans are being praised by experts as light-years beyond GM's previous offerings. They're also much more profitable. But GM can't begin a real marketing push before early next spring, when there are enough minivans to sell--giving competitors even more of a running start in a race that's quickly tightening.
The Doraville makeover would be a challenge for any auto maker. GM is spending more than $1 billion to install tons of equipment, including a new stamping facility. Most important is the "flexible" body shop, where a vehicle's metal shell comes together. Doraville should be able to adapt quickly when the next model is introduced by using reprogrammable robots that position and weld minivan bodies. Unlike the one-job robots of GM's past, software on the new ones can be updated.
The overhaul is not simply a mechanical one. Introducing such sophisticated machinery requires lots of worker training, as does building a new vehicle. For instance, GM turned to the U.S. Postal Service--whose carriers use right-hand-drive vehicles delivering mail--for advice on how to train the workers who must get the right-hand-drive Vauxhall Sintra minivans for the British market off the line. GM has also had to recruit and train a second shift for Doraville.
Things were further complicated when GM charged Doraville with churning out a mind-boggling array of minivan variations, including long and short wheelbases, four engines, three door configurations, and sheet metal for five different exteriors. "Doraville is the most complex launch that we have," says Donald E. Hackworth, vice-president of GM's Midsize and Luxury Car Group.
Launching with so many variations was a controversial choice. "I would never have started out that way," says consultant Harbour. More typically, a carmaker starts with its best shot--a few feature-laden models--and then builds only those until they can be made perfectly at a high line speed. GM managers say they need the variety to feed all of GM's marketing divisions, including Vauxhall and Opel in Europe. While that increases launch difficulty, GM says it must consider all of its customers.
Doraville's makeover is particularly vital because its minivans could turn out to be among GM's most profitable products. Lehman Brothers Inc. analyst Joseph Phillippi thinks that GM will make $5,000 to $6,000 per vehicle in gross profit on the new minivans, compared with "virtually nothing" on the old models (chart).
WHAT SCHEDULE? One reason is scale. GM is making more than twice as many of the new vans as it did of its unpopular predecessors, the needle-nosed APVs, so it can allot development costs over more vehicles. GM is also saving money by using fewer parts and spreading the cost of parts design. The minivan shares major chassis components with the new Pontiac Grand Prix. Then, too, GM figures it won't have to offer costly rebates on the '97 models--unlike the unloved APVs.
Yet Doraville's shiny new tools and alluring minivans won't help if the vehicles aren't on the market. While GM works out its kinks, thousands of potential customers are buying from rivals. And Doraville is incurring huge fixed costs and manufacturing expenses--$75 million over six months, Harbour estimates. GM claims that Doraville is slightly ahead of schedule, although that schedule has been kept deliberately hazy. Harbour says the line is turning out 42 minivans an hour, below its full-speed goal of 66. "If you set your benchmarks low enough, you can usually exceed them," grumbles one large institutional shareholder. GM's stock has long been penalized for the company's poor manufacturing performance. Now trading at around 58, it has risen just 14% so far this year, well below the 22% or so gained by the Standard & Poor's 500.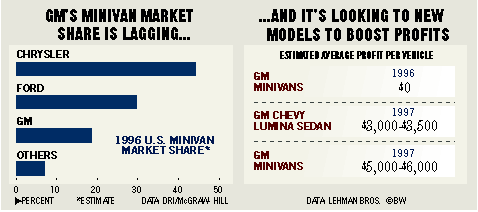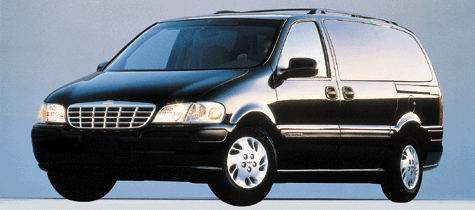 Whatever the benchmark, GM is missing an opportunity. While it dallies, rivals such as Chrysler Corp. are gaining a surer foothold in an increasingly crowded segment. Meanwhile, new contenders are on the horizon: U.S.-built minivans from Toyota Motor Corp. in late 1997 and from Honda Motor Co. the following fall. Worse, the Insurance Institute for Highway Safety, an industry group, announced on Nov. 20 that GM minivans were the worst performers in certain front-end crash tests. GM disputes the findings and says its vans are safe.
So far, Chevy's 4,400 U.S. dealers have received about 7,500 of the new Ventures, just enough for a display model or two. "It's frustrating waiting," says New Jersey Chevrolet dealer Peter Jarvis, who has just one Chevy Venture. All GM can do is hope that Dora-ville will be fully on line soon, erasing bad memories and boosting the bottom line. If that doesn't happen, GM's manufacturing mystery will only get deeper.
Before it's here, it's on the Bloomberg Terminal.
LEARN MORE