France: Time To Ease Up On The Franc?
by
The franc fort is under attack again, this time by several big guns who are questioning the decade-old policy of a strong franc linked to the German mark.
Amid record unemployment, new labor unrest, and growing discontent with Prime Minister Alain Juppe's government, former President and European Union partisan Valery Giscard d'Estaing is calling for a weaker franc to spur exports and jobs. Prominent Parliamentarians from Juppe's own party are chiming in, and even two policy council members of the Bank of France are openly calling for an immediate easing of monetary policy.
A weak economy is the root of the outcry. Third-quarter real gross domestic product rose a strong 0.9%--a 3.7% annual rate--but fourth-quarter growth will be weak or negative. Government rebates, which spurred third-quarter car sales, inflated GDP as did extra work days. Those effects will be reversed this quarter. October consumer spending on factory goods plunged 2.6%, pushing it below the third-quarter level, and car sales fell 25.8% after the subsidies expired. September's 1.3% drop in industrial production puts fourth-quarter output in a hole.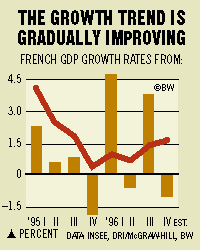 Even if fourth-quarter GDP declines slightly, a trend of economic improvement is emerging (chart). Growth next year should best the 1.2% expected for 1996, but the government's 2.3% projection for 1997 may be optimistic. The locomotive will be exports, as France heads toward a record 1996 trade surplus. Also, the latest survey of factory capital-spending plans forecasts faster growth, and inventories are leaner.
The rub is consumer spending, since joblessness has not yet peaked. The October jobless rate held at a record 12.6%, partly reflecting structurally high labor costs and the inflexibility to hire and fire. Even 2.3% economic growth would allow the jobless rate to only edge lower.
France will move toward a single currency. French and German central banks have called for a stronger dollar, and for now that should quell the anti-fort rhetoric.
Before it's here, it's on the Bloomberg Terminal.
LEARN MORE