Delta Continental: No Wind Beneath Its Wings
A Delta deal for Continental is unlikely to fly
David Greising and Wendy Zellner
The last time Delta Chairman Ronald W. Allen did a major deal, in 1991, he bagged near-death Pan American World Airways, got a toehold in Europe, and lost more than $2.2 billion during the next four years. But Allen may have the merger itch yet again: He is talking to Continental Airlines Inc. about a deal that would create the world's largest carrier, according to a source familiar with the talks. But preliminary talks don't necessarily make a deal. Indeed, many airline watchers are hoping Allen will take a pass. "A deal doesn't make any sense," says Dillon, Read & Co. analyst John Pincavage.
CULTURE CLASH? First, the deal would have to get done. Continental has hung out a "For Sale" sign several times in the past few years. Northwest Airlines Inc. considered acquiring it in 1992 and 1995, and United kicked its tires, too, last year. Delta Air Lines Inc. and Continental have talked since midsummer, but progress has been slow. "It's beyond preliminary, but nowhere near, `Let's sit down and discuss terms,"' says the source close to the talks.
Continental's stock now trades at about 31, a hefty gain from the $8 a share Texas financier David Bonderman and his partners paid for their controlling stake in 1993, when they brought the carrier out of bankruptcy. And Bonderman is eager to sell. But even Continental Chief Executive Gordon M. Bethune, in an interview just before news of the talks broke, downplayed the chances of Continental's being acquired by another carrier. A sale becomes "more improbable" as Continental's market capitalization nears $2 billion, Bethune says. And besides, he adds, Delta's "inwardly focused" culture makes it unlikely to do a deal. Also telling was the sale of 1.16 million Continental shares in recent weeks by Bethune and nine other top Continental executives--an unusual move if they expected a merger anytime soon.
ELUSIVE BENEFITS. A deal doesn't make sense in many ways. Allen, who declined an interview, has staked his tenure at Delta on aggressive cost-cutting during the past two years, slashing 10,000 jobs and streamlining operations. But Delta's costs are edging up again, jumping 4% in the third quarter from the year-ago period. The 8.71 cents it costs Atlanta-based Delta to fly a seat one mile--a standard industry efficiency measure--is still far from its goal of 7.5 cents. And merging with Continental is likely to create operational and labor headaches, driving costs still higher.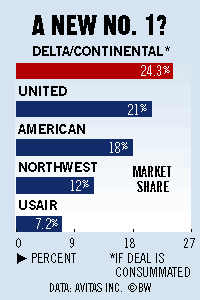 There are reasons to try for the deal. There's little overlap of the carriers' routes, so existing revenues wouldn't be cannibalized. Delta could ease free of its unprofitable hub in Dallas, because Continental is strong in Houston. And Continental's Latin American and Pacific operations would be a plus for Delta.
If a deal does happen, many observers predict more consolidation. But that assumption may prove false. Although they are competitive, the airlines operate in their own spheres, and only USAir significantly overlaps with the combined routes of Continental and Delta. This may be a deal that gets grounded before it gets off the ground.
Before it's here, it's on the Bloomberg Terminal.
LEARN MORE