Credit Where Credit Is Due
Women business owners, who recently depended heavily on credit cards for financing, now virtually mirror men in access to capital, says a National Foundation for Women Business Owners study. Plastic use has dropped in half since 1992, while reliance on earnings has soared. Women are as likely to have bank credit as men (46% vs. 49%), bolstering their new perception of fair treatment.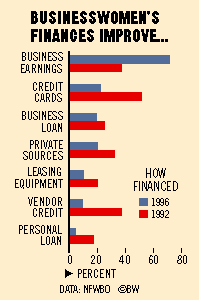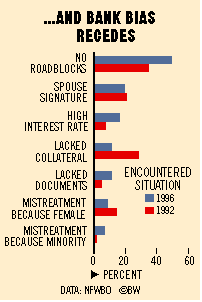 NFWBO chair Susan Peterson says banks were "shocked into action" after the group's 1992 study showed shoddy bank treatment of women, who were starting more firms than men (they now own 8 million companies, with $2.3 trillion in sales). Wells Fargo last year earmarked $1 billion for women. It's already gone. Now Wells has put up $10 billion more for creditworthy female entrepreneurs.
Women still have less available credit than men and apply for fewer loans. "But we've gained momentum," Peterson says. The study, Capital, Credit, and Financing, is available for $29.95. Call 301 495-4975.
Before it's here, it's on the Bloomberg Terminal.
LEARN MORE