Betting On Thermal Baths, Not Crap Tables
Phillip L. Zweig
More than seven years have passed since I last strolled from my grandmother's Reconstruction-era home up Park Avenue into downtown Hot Springs, Ark. It was a walk into an American time warp. Little has changed since my last, sad visit in 1989, when Gram, known to others as Catherine Stanfield March, died at 88.
Bailey's Dairy Treat, where young Bill Clinton satisfied his craving for junk food, has raised its price for a quarter-pound burger to $2.30, but Smitty the Barber still charges $2 for a haircut. A Model A Ford chugs by as I head toward Bath House Row. As I pass the elegant Majestic and Arlington hotels, I picture Babe Ruth and his 1923 New York Yankee teammates on the Arlington's veranda, autographing baseballs like the one Gram treasured. Other major league teams came to Hot Springs for spring training. But the Babe and his teammates visited to take the waters, whose healing powers were discovered in 1541 by Spanish conquistador Hernando de Soto.
By the 1880s, when Florida was still a swamp, Hot Springs was a top resort of ornate Victorian structures such as the imposing Army & Navy Hospital. In 1921, the federal government designated Hot Springs a national park.
For most of the past century, Hot Springs' economic underpinnings were the baths, horse-racing, and illicit gaming that attracted both mobsters and moguls. Gram was known to compare sheets at the Oaklawn Park track with her neighbor Virginia Kelley, whose son Bill Clinton was Gram's paper boy. Until the late 1960s, when Governor Winthrop Rockefeller shut the casinos down, the town was one of America's last bastions of illegal yet open gambling. The clampdown triggered a 20-year decline. In the 1980s, officials began courting new companies, but many here pined for the excitement and easy money of the past.
So on Nov. 5, Arkansans voted on an amendment that would have paved the way to bring back Hot Springs' casinos, croupiers, and crap tables. Local residents could then vote on whether to allow gambling in their town. Led by Oaklawn Park owner Charles Cella, who wanted to open a casino at his track, amendment backers claimed that gambling would spark a boom. Opponents, including churches, argued that gaming would benefit a wealthy few while promoting crime, traffic, and moral decay. Statewide, the measure was defeated, but voters here, where ballots are still being counted, apparently approved it by a slim margin.
Hot Springs boosters are philosophical. "We're not any worse off now than we were before the election," says Don R. Raulie, executive director of the Advertising & Promotion Commission. "I'm optimistic about the future."
Civic leaders are now pinning that future on nostalgia for a different slice of the town's past. Plans are afoot for new, European-style outdoor thermal baths and a steam-driven train to rustic Mountain Pine, 15 miles away. In November, the city broke ground for a $39 million convention center that will be completed in 1998.
PRESIDENTIAL CLOUT? Hot Springs also expects to lure tourists by promoting its most famous former resident. Bill Clinton's alma mater, the shuttered Hot Springs High School, is expected to become a cultural center. Some 5% of the nearly 2 million visitors annually come looking for the President's roots, which were planted in 1954 when Clinton and his family moved up here from Hope. Since Clinton took office in 1993, says Monty Scott, president of Southwest Hotels Inc., which owns the Majestic and Arlington, "I understand that Hot Springs has moved to the front of the National Park Service funding list. I don't think that anybody at the Park Service wants to upset the President."
Can Hot Springs thrive as a tourist mecca again? I can't help wondering about Gram's answer. Born in Rison, Ark., Gram, a widow, settled here in the 1930s with her two children--Alfred and my mother, Myrillyn. She was warm and caring, providing comfort during my brother Stephen's nine-year struggle with Hodgkin's disease, which ended with his death in 1980. But she could be feisty, as on that Sunday when she took issue with a visiting preacher by stalking out in mid-sermon down the center aisle of the church.
Hot Springs loved tourism but not necessarily all outsiders. In 1952, I was a New Yorker who went to live with Gram and attend first grade at the Ramble School. (Three years later, Bill Clinton, who's a month older than I am, enrolled in the fourth grade there.) I couldn't understand my classmates' accents, and they couldn't understand me. The teacher said I was retarded. Furious, Gram took me back north.
Like Hot Springs, Gram was proud of her Clinton connection. When she visited New York in August, 1980, during the Democratic convention, she wanted to be seated with the Arkansas delegation, though she wasn't a member. So she phoned Governor Clinton's hotel suite and asked for a pass. An aide promised to get back to her in an hour. No call came, so on the third try, she told the aide: "You tell that boy that I might not be able to do him a lot of good, but I sure can do him a lot of harm." Her pass arrived an hour later.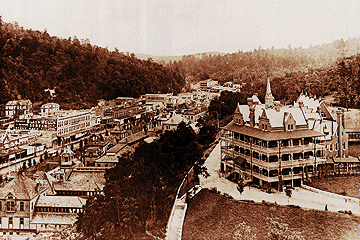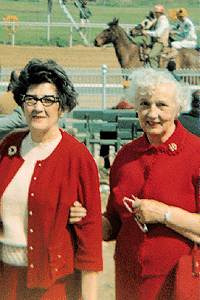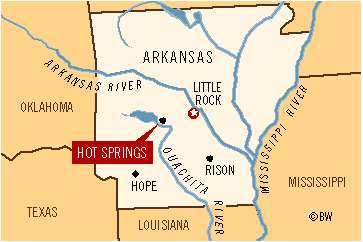 I last visited Gram in May, 1989. Due to a hip fracture, she was too frail to attend the dedication of the restored Fordyce Bath House. So at the reception, I asked Clinton to greet her via my tape recorder. Gram smiled weakly as I played the tape. Three months later, she was dead. We took Gram on one last trip through the pine forests and buried her in the family plot in Rison.
Gram had loved the bustling Hot Springs of the past, more because of the folks who came to regain their health than those who lost their shirts. So as I visit her old house with its long porch and rockers, I decide she'd have been characteristically blunt in saying Hot Springs' future shouldn't be in the pockets of the high rollers. It should belong, instead, to friends, family, and others who come here to flee a faster-paced, often crueler world. Gram would have voted no on casino gambling.
Before it's here, it's on the Bloomberg Terminal.
LEARN MORE