Who Is The Real `Chainsaw Al'?
What Dunlap's recently published book doesn't tell you
by
"Writing Mean Business caused me to examine not only the elements of what makes a successful business, but what makes a successful individual. In my book, it comes down to one word: family." --Albert J. Dunlap
As his sister reads these words, she shakes her head in disgust. "That's ridiculous," says Denise Dunlap, whose brother is chief executive of Sunbeam Corp. "It's a total, outright lie."
Why is she so angry? Less than three years ago, she says, her brother told her not to count on either his emotional or financial support when she informed him that her 20-year-old daughter had leukemia. That was not much more than a year or so after Al Dunlap failed to show up at the funerals of either his mother, Mildred, or his father, Albert. Dunlap didn't pay a penny of the tuition to send his only son, Troy, to college. And Dunlap's first wife, Gwyn, in gaining a divorce from him on grounds of extreme cruelty in 1966, described numerous incidents of physical and emotional intimidation.
UP FROM POVERTY? Such unflattering details cannot be found among the 289 pages of Dunlap's Mean Business, which chronicles his exploits as "Chainsaw Al," the controversial executive who has fashioned a highly successful career out of firing vast numbers of people. Four months after being named CEO of Sunbeam, Dunlap on Nov. 12 announced plans to boot 50% of Sunbeam's 12,000 employees and sell or consolidate 39 of its 53 facilities. That comes on top of his 20-month reign at Scott Paper Co., where he fired 11,200 employees--more than one-third of the workforce. By the time he sold Scott to Kimberly-Clark Corp. in 1995, shareholders had seen their stock rise 225%. Dunlap himself pocketed more than $100 million.
Not since the days of Chrysler Corp.'s Lee A. Iacocca has a businessman generated so much personality-driven publicity. By now, the story is familiar. Dunlap says he grew up poor in Hoboken, N.J., son of a five-and-dime store clerk and a dockworker who was frequently laid off. He portrays himself as an unrepentant cost-cutter brought in to save near-death companies. But, he says, his working-class upbringing makes him sensitive to the pain of the employees he has fired.
Is Dunlap the up-from-poverty family man he claims to be? Not according to his sister and his first wife's divorce papers. Both women describe a cruel, sometimes abusive man who rewrote his personal history to bolster his public image. His 33-year-old son, Troy, who was 2 when the Dunlaps divorced, says he paid his own way at the University of Washington. Denise Dunlap, 53, who works behind the counter of a jewelry store in Ridgewood, N.J., says that three years before her father's death, she gave him some of Al's press clippings that described growing up poor. Albert Dunlap Sr. was brought to tears. "He was crushed," recalls Denise. "My father wasn't a dockworker. He was a boilermaker for United Engineers, which built power plants, and my mother never worked a day in her married life. My father asked: `Why does he have to tell these stories?"' Indeed, the family album overflows with pictures of vacations to New England, Canada, Florida, and the New Jersey shore. "It was a very comfortable childhood," says Denise, who recalls that her parents gave her brother a new Bonneville convertible and a European vacation when he graduated from West Point in 1960.
Dunlap, according to his sister and high school football coach, was short-tempered as a youngster. Judging from court documents--unearthed by The Record, a Hackensack (N.J.) paper--Dunlap brought that demeanor to his first marriage to Gwyn B. Donnelly in 1961. In court papers obtained by BUSINESS WEEK, she described Dunlap as a cruel penny-pincher who physically and emotionally abused her. In a written statement, Dunlap vigorously denies the allegations: "Anyone taking the time to look at the grounds for divorce before no-fault divorce laws were passed in the 1970s knows that lawyers had to be very creative in establishing grounds for divorce. I think the fact that I have been happily married to my loving wife Judy for the past 29 years speaks volumes."
His first wife's motivation for seeking a divorce surely wasn't monetary: She received $15 a week in child support. Now remarried, she could not be reached for comment. In her complaint, she said her husband kept her on a stringent budget and threatened her when she failed to meet his standards of housekeeping or thrift. According to the complaint, he once pointed a bowie knife at her and remarked: "I often wondered what human flesh tasted like." On other occasions, when he sat at home cleaning what was described as his "small arsenal" of guns, Dunlap allegedly told her: "You better watch out and toe the line."
The marriage ended in 1966. Dunlap married again two years later, this time to Judy Stringer, a bank teller he met in Eau Claire, Wis. During the next 20 years, he worked at a variety of companies, ranging from American Can Co. to paper-cup maker Lily-Tulip Inc., where he walked away with stock-option gains alone of more than $6.5 million in 1986.
By the end of the 1980s, he had severed almost all contact with his family back in New Jersey. Seven years ago, when Dunlap was working as an aide-de-camp to British billionaire Sir James Goldsmith, Denise called him with a plea for help. "My mother had stopped walking," she says. "My father and I asked if he could pay for a housekeeper to take care of her. His reply was that `a nursing home would be good for her. She'll learn to sing songs.' I went ballistic."
Eventually, she says, her father had to sell the family home and move into a small apartment to pay for his wife's two-year stay in a nursing home. "Al never visited her," she says. "The first thing she would always say when I saw her was, `Have you heard from Albie?' I would say he's really busy but you know he loves you. It makes me sad to say these things. I loved him with my heart and soul, but I've lost my brother."
"BASELESS." Dunlap says that "her claims about my relationship with my parents are unfounded. I loved them very much, and helped them a great deal." He also says he and his sister have long had a strained relationship. "She has been and is prone to making up stories about me that are baseless or exaggerated," he says. "Despite that, I have supported her many times over the years, both financially and careerwise, but my efforts were never appreciated." And not all his family would agree with his sister's assessment. "I just love him," says Virginia Stringer, Dunlap's mother-in-law. "He's a great guy."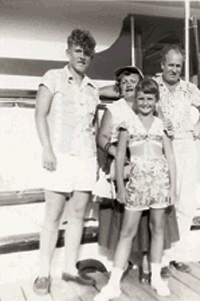 Yet when Dunlap's mother died, four years ago, the executive--then in Australia--told his sister he was too busy to attend her funeral. Six months later, his father was rushed to a hospital in Camden, N.J., after an auto accident. Dunlap again was too busy to visit him during the three days before his death or to go to his funeral. Although their father left a $5,000 life-insurance policy in his daughter's name, she says Dunlap received the check and kept the money because, he explained to her, he had paid for his dad's funeral.
For Denise, the relationship ended for good in January, 1994, when she called her brother to let him know that her daughter, Carolyn, a college junior, was diagnosed with leukemia. "Can I just know that you'll be there if I need you?" she asked him. "No," Dunlap tersely replied, she recalls.
Does any of this matter? Is the private life of a CEO public fodder? Normally, perhaps not. But by making his life story part of his controversial management philosophy, Al Dunlap's character becomes a legitimate subject for scrutiny.
Before it's here, it's on the Bloomberg Terminal.
LEARN MORE