U.S.: Honey, I Shrunk The Inventories
Stockpiles are leaner than expected--and that's good news for growth
by
Now you see it. Now you don't. Last quarter's worrisome-looking buildup of inventories seems to have disappeared. It wasn't magic. Merely the flick of a Commerce Dept. eraser.
When Commerce took its first pass at third-quarter gross domestic product on Oct. 30, it had fairly complete inventory data for July, partial information for August, and almost nothing for September. As it turns out, the quarter's inventory estimate was off--way off.
In fact, the updated GDP report, due on Nov. 27, will put a different slant on the near-term outlook. Instead of last quarter's $40 billion surge in stockpiles--which suggested that production was outrunning demand--inventories now appear to have grown at only about half that pace. What's more, upbeat September data on retail sales and construction spending imply that final sales grew faster than the skimpy $5 billion increase first thought.
The faster pace of demand did not fully offset the subtraction of slower inventory growth, however. And new September numbers show that foreign trade turned out to be the huge drag on GDP that Commerce had assumed. As a result, revised third-quarter GDP most likely grew less than the 2.2% pace first reported. For the outlook, though, the more important implication of the numbers is that the mix of GDP growth between stock building and spending will be far more growth-friendly as the economy heads into 1997.
WHEN COMMERCE REPORTED that inventories had increased by the biggest amount in six quarters, the fear was that the buildup would depress orders and output this quarter and next. The latest monthly data, however, remove that worry from the outlook (chart).
Stockpiles held by factories, wholesalers, and retailers rose a mere 0.1% in September, and the August gain was revised down to 0.3% from 0.5%. Commerce's biggest miscalculation was in wholesale inventories, which fell 1.3%, the largest decline since 1982.
With business sales advancing 0.8% in September, the month's ratio of overall inventories to sales dipped to 1.39, the lowest since Commerce began keeping monthly records in late 1980. Clearly, inventories were not excessive at the end of the third quarter. And the absence of such a bulge means that the economy is freer to grow in line with the pace of demand.
ON THAT SCORE, consumers hold the key. Shoppers took a breather last quarter, after a first-half buying spree. So the question now is whether consumers will return to their free-spending ways or decide to hole up for the holidays.
The latest news is promising, especially on consumer attitudes. The University of Michigan's index of consumer sentiment for November jumped to 98.9, a 10-year high. That reading undoubtedly reflected consumers' satisfaction with prospects for jobs and incomes and the reduced threat of higher interest rates.
Also, fourth-quarter consumer spending appears to be perking up. After a strong 0.8% advance in September, October retail sales rose 0.2%. The gain was modest, but excluding car dealers, sales increased a stronger 0.4%. Although the retail sales dollar value of car buying fell, October unit auto sales, which go into the consumer spending numbers in the GDP accounting, stood at an annual rate of 14.9 million, a healthy pace that was even with the third-quarter average.
Higher prices for food and energy probably accounted for some of the October advance in retail sales. The consumer price index for the month rose 0.3%, pushed up by a 0.6% rise in food prices and a 0.7% increase in energy costs. Excluding those two volatile categories, the core index rose only 0.2%, and annual core inflation is actually falling (chart).
Still, even after adjusting for inflation, real retail sales in October already stood at an annual rate of 1.3% above the third quarter. That gain equals the growth rate for the entire third quarter, and with fundamentals looking supportive, the holiday months should show further gains.
One area that may be a drag on fourth-quarter demand, though, is housing. The government's data on homebuilding are finally adjusting to the slippage in activity that builders began to point to this summer when mortgage rates hit their recent highs. Still, the housing market is probably not as weak as the latest housing-starts data suggest.
After remaining surprisingly resilient this year, starts tumbled 6.1% in September and a further 5.1% in October, to an annual rate of 1.37 million. The National Association of Home Builders' housing market index dipped in November to 51, continuing a decline from a high of 63 in May.
However, any weakness could be short-lived. On the heels of the recent bond-market rally, fixed mortgage rates have fallen back, to an average of 7.78% for a 30-year loan in the week ended Nov. 15. Moreover, mortgage applications to buy a home in the week ended Nov. 8 rose to the highest level since early July. Filings to refinance were the most since early April--another favorable development that will put some extra cash in people's pockets for holiday shopping.
AND SHOPPERS SHOULD HAVE little trouble finding the items on their wish lists. Retail inventories rose 0.8% in September, following sizable increases in both July and August. Retailers were stocking up for the holiday season, and it is equally clear that a significant chunk of that inventory growth came from imports.
Foreign-made consumer goods rose sharply from July to September, as the trade deficit continued to deteriorate. The gap widened unexpectedly in September to $11.3 billion from $10.3 billion in August, mainly reflecting fewer aircraft exports and a surge in oil imports due to higher prices.
Over the past year, both sides of the ledger have caused the widening (chart). Exports have slowed because of sluggish world growth, especially in Mexico and Canada, and imports continue to wash ashore. On a positive note, the import surge means that even if retailers overstocked for the holidays, U.S. producers will not get hit with the full falloff in orders.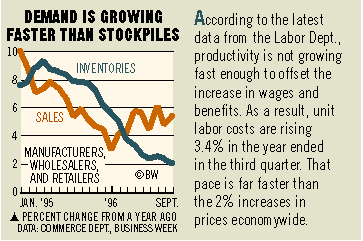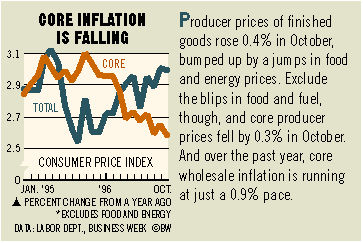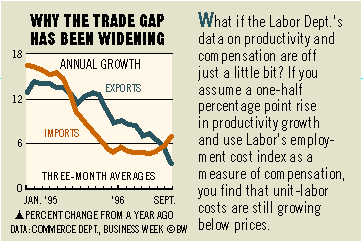 Industrial production did decline 0.5% in October, but that mainly reflected lost output due to strikes at General Motors Corp. Auto production is set to rebound in November and December. Manufacturing output began the quarter slightly below the third-quarter level. But excluding autos and trucks, output is running ahead of last quarter.
With inventories looking a lot leaner than they did just a few weeks ago, any pickup in demand will translate quickly into a boost in output. That's why holiday sales will be a crucial barometer for growth heading into 1997. And right now, strong optimism and steady job and income growth argue that shoppers--unlike inventories--are unlikely to pull a vanishing act.
Before it's here, it's on the Bloomberg Terminal.
LEARN MORE